William A. Murphy Jr.
James B. Vogler III
As one of the larger and more important organs in the human body, bone marrow plays important physiologic roles in both health and disease. In healthy individuals, its function is to provide a continual supply of red cells, platelets, and white cells to meet the body's demands for oxygenation, coagulation, and immunity. As such, bone marrow frequently becomes a target, either directly or indirectly, of many varied disease processes. The way in which marrow responds, can, at times, be dramatic.
Until recently,
in vivo
imaging of certain physiologic functions and anatomic features of the bone marrow has been limited. Historically, many methods have been utilized and still remain useful, despite shortcomings. Plain film radiography provides an excellent anatomic overview but is limited in detecting even considerable amounts (30% to 50%) of trabecular bone loss that might result from an intramedullary process. More importantly, a radiograph does not detect cellular changes in marrow. Scintigraphy using 99m-technetium phosphate or sulfur colloid tracers affords a physiologic survey of either marrow constituents themselves or the surrounding osseous elements. Physiologic processes such as hematopoiesis and phagocytosis can be evaluated.
1
Lack of spatial resolution and low specificity, however, are recognized shortcomings. Fluorine-18-fluorodeoxyglucose positron emission tomography (FDG PET) relies on increased glucose metabolism of tumor cells to identify early bone marrow infiltration by malignant neoplasms.
2
,
3
Sensitivities of this modality rival or exceed those of routine MR pulse sequences;
2
however, specificity has yet to be established. Computed tomography (CT) provides excellent in-plane spatial resolution (on the order of 0.35 mm) and contrast resolution (on the order of 0.5%).
4
These capabilities provide excellent definition of cortical bone, trabecular bone, and, to a lesser degree, the intramedullary space.
By combining multiplanar images, excellent spatial resolution, superior contrast discriminationandhigh sensitivity, magnetic resonance imaging (MRI) has greatly improved the ability for
in vivo
assessment of normal and abnormal bone marrow. With this imaging method, the continuous modulation of normal bone marrow patterns throughout life, the varied responses of marrow cell populations to disease, and the introduction of non-marrow cell populations can be monitored.
5
NORMAL BONE MARROW
Anatomy and Physiology
The basic microstructure of bone marrow consists of an osseous framework housing fat cellsandhematopoietic cells, both supported by a system of reticulum cells, nerves, and vascular sinusoids.
6
The trabecular or cancellous bone is composed of primary and bridging secondary trabeculae. By volume, this osseous tissue occupies 15% of the bone cavity and provides both architectural support and a mineral depot.
7
Cellular constituents of marrow occupy the remaining 85%. These constituents include all stages of erythrocytic and leukocytic development, as well as fat cells and reticulum cells.
8
Erythrocytic, granulocytic, and megakaryocytic cell lines replenish the body's supply of red cells, white cells, and platelets. The role of fat cells in marrow function is unclear. Speculation suggests that fat cells provide surface and nutritional support and possibly growth factors for hematopoiesis.
6
,
9
Reticulum cells consist of both phagocytic cells (macrophages) that play a role in immunity and undifferentiated non-phagocytic cells
10
whose role is yet to be fully defined. In red marrow, these non-phagocytic reticulum cells occur in greater abundance in perivascular locations and form a reticular meshwork that provides nutritional and mechanical support to the hematopoietic cells.
11
,
12
These reticular cells appear to have the capacity to accumulate lipid and transform into the fat cells of red and yellow marrow. The capability of these cells to become either red or yellow marrow components aids in explaining the capacity of red marrow to expand or retract in response to various physiologic stimuli as will be discussed later.
12
,
13
The various components of normal marrow (fat cells, hematopoietic cells, reticulum cells, trabeculae, vessels, and
nerves) may be simplified into a unifying concept—that of red and yellow marrow. That fraction of bone marrow actively involved in the production of blood cells is termed hematopoietic or "red marrow." The remaining fraction, which is hematopoietically inactive, is termed "yellow marrow." Important anatomic and compositional differences exist between these two types of marrow.
8
On average, the chemical composition of red marrow is approximately 40% water, 40% fat, and 20% protein.
8
The cellular composition of red marrow is 60% hematopoietic cells and 40% fat cells.
8
,
14
Red marrow has a rich, arborized vascular network. Yellow marrow's chemical composition is approximately 15% water, 80% fat, and 5% protein.
8
Its cellular composition is 95% fat cells and 5% nonfat cells.
8
,
14
Physiologically, the fat cells in yellow marrow are relatively stable, whereas those in red marrow appear to be labile.
15
Yellow marrow has a sparse vascular network.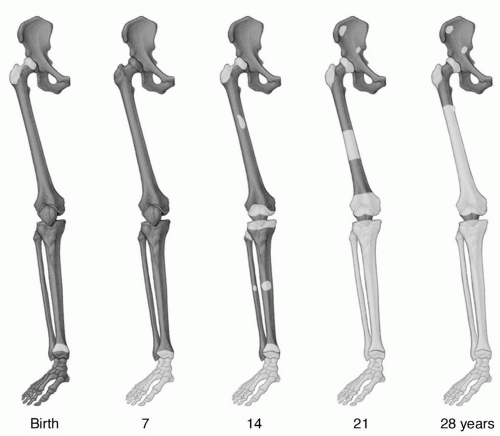 Figure 14.1
Age-related changes in red/yellow marrow distribution based on histologic studies. The natural conversion of red to yellow marrow is illustrated by drawings of the right lower extremity at 7-year increments. At birth, virtually the entire ossified skeleton contains red marrow. Conversion of red to yellow marrow begins shortly after birth and is first evident in the distal appendicular skeleton (hands and feet). Through the ensuing years, the process gradually progresses from distal to proximal with respect to the skeleton as a whole and from diaphyseal to epiphyseal in individual long bones. (Adapted from Hashimoto M. Pathology of bone marrow.
Acta Haematol
. 1962;27:193-216, ChenW, Shih TT, Chen R, et al. Vertebral bone marrow perfusion evaluated with dynamic contrast-enhanced MR imaging: Significance of aging and sex.
Radiology
. 2001;220:213-218, and Kricun ME. Red-yellow marrow conversion: Its effect on the location of some solitary bone lesions.
Skeletal Radiol
. 1985; 14:10-19.)
At birth, virtually the entire marrow space contains red marrow. During growth and development, conversion of red to yellow marrow occurs throughout the skeleton. This is a normal physiologic process and has a predictable and orderly pattern. This conversion begins in the immediate postnatal period and is first evident in the terminal phalanges of the hands and feet.
16
The process then progresses from peripheral (appendicular) toward central (axial), with respect to the skeleton as a whole, and from diaphyseal to metaphyseal in individual long bones (
Fig. 14.1
). Within the marrow cavity of long bones, conversion is seen first in the central medullary space from where it progresses toward the diaphyseal and then the metaphyseal subcortical bone. Flat bones and vertebral bodies show similar patterns with conversion moving from the central medullary space toward the metaphyseal equivalents. Although generally symmetric, the rate and extent of conversion is not uniform but varies according to site in a particular bone as well as among bones (
Fig. 14.2
).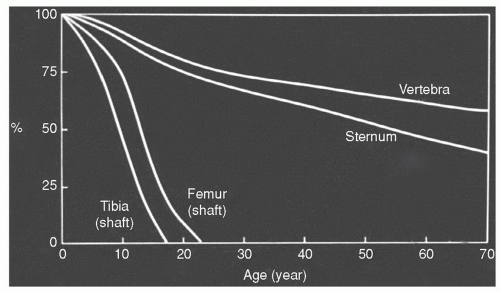 Figure 14.2
Conversion of red to yellow marrow. Changes in the red marrow fraction (percentage cellularity red marrow) at specific anatomic sites are illustrated on this graph. The rate and extent of conversion differs between axial (vertebra and sternum) and appendicular (tibia and femur) sites. The axial skeleton demonstrates a more gradual decline in the red marrow fraction with substantial amounts of red marrow persisting throughout life. The rate of red to yellow marrow conversion in the appendicular skeleton is more rapid with little red marrow persisting in the tibial and femoral shafts beyond 25 years of age. (Adapted from Custer RP. Studies on the structure and function of bone marrow. I. Variability of the hemopoietic pattern and consideration of method for examination.
J Lab Clin Med
. 1932;17:951-959.)
Epiphyses and apophyses must be considered independently. These structures lack marrow until they begin to
ossify. What remains unclear is how much red marrow appears at these sites and how long it persists. Undoubtedly, any red marrow contained in these structures undergoes rapid, although not necessarily complete, conversion to yellow marrow. The conversion begins in the central marrow cavity and progresses toward the subchondral or peripheral subcortical bone. Thus, as a general rule, epiphyseal and apophyseal ossification centers can be thought of as containing yellow marrow from very early in growth and development. Yellow marrow persists in epiphyses and apophyses throughout life, with the proximal femoral and proximal humeral epiphyses/apophyses being limited exceptions to this rule. Other exceptions may exist; however, to date they remain unidentified.
Usually by 25 years of age, the process of primary red marrow conversion to yellow marrow is complete and a balanced distribution of red and yellow marrow has been achieved.
17
,
18
,
19
,
20
This balance will vary from person to person as it is influenced by at least age, gender, and health. Similarly, the balance between redand yellow marrow achieved in individual bones varies by location. Red marrow is predominately concentrated in the axial skeleton (skull, vertebrae, ribs, sternum, and pelvis) and the proximal appendicular skeleton (proximal femora and humeri) (
Fig. 14.3
). Yellow marrow dominates the remaining portion of the appendicular skeleton and is variably admixed throughout the axial skeleton. Physiologic conversion of red to yellow marrow continues after 25 years of age, albeit at a slower pace, as evidenced by the declining fraction of red marrow at axial sites throughout adult life (
Fig. 14.2
).
21
This process can also be observed in the proximal femoral and humeral metaphyses.
22
In men, most of the red marrow conversion that will occur at these sites is nearly complete by 35 years of age, whereas women may display predominantly red marrow at these locations until 55 years of age.
23
,
24
,
25
The boundaries of red and yellow marrow are not absolute and variations in this generally accepted adult pattern do exist. Islands of hematopoietic tissue may be found in areas dominated by fatty marrow and vice versa. Likewise, it is considered normal to find red marrow occupying up to two-thirds of the proximal femoral and humeral shafts.
8
,
18
,
26
,
27
The red/yellow marrow distribution continues to change slowly with advancing age as the red marrow fraction in individual bones declines.
28
Factors modulating this conversion of red to yellow marrow are largely unknown; however, temperature,
29
vascularity,
20
and low oxygen tension
30
have been implicated.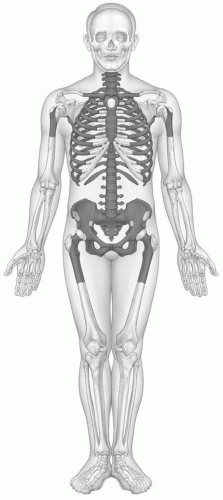 Figure 14.3
Adult pattern of red/yellow marrow based on histologic studies. The primary conversion of red to yellow marrow has been accomplished and the adult distribution of red/yellow marrow established usually by 25 years of age. Red marrow is concentrated in the axial and proximal appendicular skeleton while yellow marrow occupies the remainder of the appendicular skeleton. (Adapted from Hashimoto M. Pathology of bone marrow.
Acta Haematol
. 1962;27:193-216, Chen W, Shih TT, Chen R, et al. Vertebral bone marrow perfusion evaluated with dynamic contrast-enhanced MR imaging: Significance of aging and sex.
Radiology
. 2001;220:213-218, and Kricun ME. Red-yellow marrow conversion: Its effect on the location of some solitary bone lesions.
Skeletal Radiol
. 1985;14:10-19.)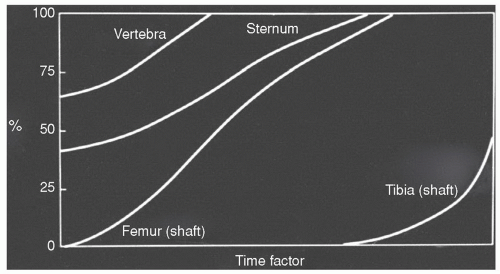 Figure 14.4
Reconversion of yellow to red marrow. Yellow marrow is reconverted to red marrow in response to the body's demand for increased hematopoietic capacity. This reconversion process is first evident in the axial skeleton (vertebra and sternum), where the rate and extent of the process usually exceeds that of the appendicular skeleton (femur and tibia). The extent of axial and appendicular involvement is influenced by the severity and duration of the inciting stimulus. (Adapted from Custer RP. Studies on the structure and function of bone marrow. I. Variability of the hemopoietic pattern and consideration of method for examination.
J Lab Clin Med
. 1932;17:951-959.)
The process of red to yellow marrow conversion is, at times, halted or reversed as alterations in the body's demand for hematopoiesis provoke a "reconversion" of yellow marrow to red marrow. During this reconversion, yellow marrow is transformed to red marrow throughout the skeleton in the reverse sequence of the primary red to yellow marrow conversion described above. Thus, the process occurs first in the axial skeleton followed by the appendicular skeleton in a proximal to distal sequence (
Fig. 14.4
).
19
,
20
,
21
,
31
Within individual bones, reconversion is first seen at endosteal locations in metaphyses or epiphyses or their equivalents. From there, it progresses toward the central marrow space and toward the diaphyseal subcortical bone, ultimately extending into the central diaphyseal marrow cavity. Temperature,
29
low oxygen tension,
30
and elevated erythropoietin
32
are again implicated in initiating and modulating this process, although the actual mechanisms and controlling factors remain largely unknown.
MAGNETIC RESONANCE FEATURES
Red and Yellow Marrow
Mineral contributes in a negative fashion to bone marrow signal intensity through two different mechanisms. First, due to a lack of mobile protons, the mineral matrix produces little or no signal; second, inhomogeneous susceptibility where mineral matrix interfaces with water or fat results in local field gradients and signal loss. The mineral matrix of bone marrow is contained in trabecular bone. Since metaphyses and epiphyses contain greater amounts of trabecular bone, signal intensity at these sites is altered accordingly.
Appendicular Skeleton
Known anatomic features that alter these red/yellow marrow patterns in the extremities include local variations in trabecular bone content and remnants of the growth plate (physeal scar). At sites where trabecular bone is in abundance, the marrow will generally demonstrate slightly lower signal intensity on both long and short TR/TE sequences. This is most commonly encountered in the metaphyseal/epiphyseal regions of long bones. Likewise, load-bearing trabeculae that are thickened and more numerous produce bands of lower signal intensity in the marrow. Compressive and tensile trabeculae coursing through the femoral head and neck are good examples of this. The physeal scar appears as a thin, transverse band of low signal intensity on T1- and T2-weighted images. It is a constant finding at expected locations in the appendicular skeleton. Bone reinforcement lines, if thick enough, would be expected to produce a similar appearance.
TECHNICAL CONSIDERATIONS
In the MRevaluation of bone marrow and bone marrow disorders, the major technical considerations to be addressed are pulse sequences, slice parameters, imaging planes, contrast agents, and types of coils to be utilized.
The MR appearance of bone marrow varies greatly between pulse sequences. Numerous pulse sequences have beenandcontinue tobe developed, each with nuances aimed at improving some aspect of MRI. What role, if any, many of these will play in bone marrow evaluation is unclear. Spin-echo pulse sequences (both conventional and fast) with T1-and T2-weighted images have traditionally been the method utilized in MRI of marrow and, as such, much of the current knowledge about normal and abnormal bone marrow is based on these sequences.
Fast spin-echo techniques are being used with increased frequency in all areas of MRI. The main advantage of these pulse sequences is shorter imaging time. On FSE T2-weighted images, fat (including fatty marrow) remains high in signal intensity potentially obscuring marrow disease. Incorporating fat saturation with T2-weighted FSE sequences overcomes this potential pitfall. On MR units where fat saturation is not possible, inversion recovery sequences should be considered.
Diffusion-weighted imaging is now a routine part of MRI in neuroradiology, particularly for evaluation of patients with suspected stroke. The method is dependably sensitive to the presence of brain infarction in the acute setting, and permits differentiation of recent stroke from chronic infarction. The technique is also routinely applied in demyelinating conditions and in the differential diagnosis of spinal cord conditions. In contrast to the general acceptance of DWI in brain and spinal cord assessment, it has not yet become a routine part of bone marrow imaging.
Size of the anatomic region to be evaluated influences many of the MR scanning parameters, including surface coil selection, slice thickness, and interslice gap. Smaller anatomic regions may be better imaged with surface coils, whereas larger regions require body coils. Comparison with the contralateral extremity is generally desirable, necessitating use of a body coil. Slice thicknesses on the order of 3 to 5 mm with no interslice gap usually provide the resolution necessary in small anatomic areas. However, 5-mm slices with 5- to 10-mm gaps are often needed to cover larger regions. Signal-to-noise considerations also influence slice thickness and interslice gap in addition to matrix size and number of excitations (NEX). Generally, matrices on the order of 192 × 256 with two excitations provide adequate signal-to-noise for evaluating large anatomic regions.
Clinical settings that account for the majority of MR examinations for diffuse marrow disease include: (i) a problem-solving study to define further the abnormalities encountered on other radiologic procedures or other MR exams; (ii) a screening study of the marrow to detect involvement by processes (e.g., myeloma) not readily imaged with other modalities; (iii) a screening study of the marrow to identify early metastatic disease not detectable by other modalities; (iv) a follow-up study for assessment of response to therapy; and (v) a guidance study to localize potential sites for biopsy.
The sensitivity of MR for detection of marrow abnormalities indicates a potential role for this modality in the initial staging of certain tumors likely to metastasize to bone (breast, prostate, and lung) or to have large marrow tumor burdens (myeloma). MR examinations may be tailored in each of these situations when it is not feasible to image the entirety of an individual's bone marrow. Thus, any screening protocol should be directed at evaluation of skeletal sites where the likelihood of involvement is highest. In adults, this would mean evaluation of the axial skeleton because most diffuse marrow disorders tend to follow the distribution of red marrow. Thus, surveys of the spine are now common. Imaging of marrow in the ribs and skull is limited due to the size and shape of these bones. Time and cost limitations usually prohibit comprehensive evaluation of all at-risk sites. As a reasonable compromise, limitation of the evaluation to the pelvis (including proximal femora) and the lumbar spine (including portions of the lower thoracic spine) is a common strategy. The study should include T1-weighted images and STIR, or fat-saturated T2-weighted images. Addition of non-dynamic or dynamic gadolinium-enhanced sequences may be reasonable based on the clinical situation and the appearance of the non-contrast portion of the study.
DIFFUSE MARROW DISORDERS
Bone marrow responds to insult and disease through a select number of mechanisms.
27
These pathophysiologic responses can be identified and categorized on MR images. The concept provides a useful means of grouping the various disorders that affect marrow and for understanding associated marrow signal patterns. Five pathophysiological mechanisms are considered. First is reconversion wherein the normal pathophysiologic process of converting red marrow to yellow marrow is reversed such that yellow marrow is "reconverted" to red marrow. Red marrow hyperplasia is a subcategory of this mechanism. The second is myeloid depletion in which all marrow cells other than fat are destroyed or disappear. In the third, ischemia, all marrow elements die and are repaired to a greater or lesser degree. Infiltration, the fourth process, is when pathologic cells invade normal marrow. And finally, the fifth process is marrow edema, wherein excess water appears in the marrow tissue.
An alternative classification system has been proposed.
99
In this system T1-weighted images are used to classify marrow disorders into four patterns: Marrow depletion, infiltration, replacement, and signal void. These four patterns can be observed alone or together in a focal, regional, or diffuse skeletal distribution. Marrow disorders are then grouped according to their typical MR signal characteristics and distribution.
In this chapter, marrow disorders will be classified by their pathophysiologic mechanism (reconversion, depletion, ischemia, infiltration, and edema). This conceptualized categorization is imperfect but provides a useful framework for discussion.
Reconversion
When the demand for hematopoiesis exceeds the ability of existing red marrow to meet the required level of cell production, a process is initiated whereby a portion of yellow marrow is reconverted to red marrow. The reconversion sequence is the reverse of normal red to yellow marrow conversion. Reconversion is initiated in the axial skeleton and then progresses toward the distal appendicular skeleton in a proximal to distal pattern. Thus, in a given individual, if reconversion is encountered in the appendicular skeleton, then it should be evident, often to a greater degree, in the axial skeleton. Within individual bones, the process begins in the subcortical marrow of proximal metaphyses or metaphyseal equivalents. It then progresses centrally into the marrow cavity while at the same time moving toward diaphyses and epiphyses or epiphyseal equivalents. Generally, reconversion will become evident in distal metaphyses of long bones before it has been completed in the diaphyses. Pathologically, capillary proliferation and sinusoid formation in the subendosteal portions of the fatty marrow
100
herald the process. A greater blood supply is required to sustain red marrow than yellow marrow.
The process of reconversion is generally symmetric throughout the skeleton, although not necessarily uniform in any particular bone. The extent of reconversion depends on the intensity and duration of the stimulus. Mild cases may show only selective hyperplasia of axial marrow and proximal appendicular sites, while in extreme cases, involvement may be evident in distal appendicular regions.
Causes of reconversion and red marrow hyperplasia vary and span a spectrum of diverse disorders from specific disease processes to lifestyle factors. Chronic anemias (sickle cell, thalassemia, etc.), chronic infection, cyanotic heart disease, marrow replacement disorders (metastatic disease, etc.), and myeloproliferative conditions (myeloma, leukemia) are among the processes that may incite this phenomenon. In hematopoietic conditions, the severity and chronicity of the stimulus (i.e., anemia, infection, and hypoxia) will determine the extent of reconversion and/or the degree of persistent red marrow hyperplasia. In patients with sickle cell disorders, the amount of productive marrow volume lost due to osteonecrosis also influences the distribution and degree of reconversion. In a similar fashion, metastases and myeloproliferative disorders cause reconversion of more distal marrow space because hematopoietic capacity in proximal marrow is replaced by pathologic cells. Since neoplastic disorders generally follow the distribution of red marrow (involving the axial skeleton before appendicular sites), identification of hyperplastic red marrow in the extremities of a person with a known neoplastic condition is an ominous sign suggesting extensive replacement of axial marrow by tumor. Extensive appendicular reconversion to red marrow is not common, however, and care must be taken when trying to diagnose reconversion on the basis of MRI. To date, there is no reliable means of differentiating reconverted or hyperplastic marrow from other marrow infiltrative disorders. In most cases, bone marrow biopsy is the only reliable method of confirmation.
The MR appearance and diagnostic criteria for determination of reconversion are not firmly established and, as such, the process is probably underdiagnosed. MR images of patients in whom the process of reconversion is operative, display findings indicative of an expanded red marrow fraction.
36
The signal intensity of hyperplastic marrow at any particular location is dependent upon the degree of hyperplasia (cellularity). On short TR/TE sequences, involved sites display decreased marrowsignal intensity (
Fig. 14.29
), whereas on longer TR/TE and STIR images the signal intensity increases relative to that of fatty marrow. Actual signal intensity observed is influenced by the degree of cellularity, the amount of water residing in the red marrow, and the scanning parameters chosen. When extensive red marrow hyperplasia is present, its signal intensity on T1-weighted images can be equal to or slightly lower than that of muscle (
Fig. 14.30
). On T2-weighted images, the signal intensity of hyperplastic marrow can exceed the signal intensity of fatty marrow; fat saturation will emphasize the water content of the hyperplastic red marrow fraction. The process of reconversion involves individual bones to varying degrees, producing a spectrum of MR appearances. In early or mild cases, islands of regenerating red marrow are scattered throughout the marrow space producing a "spotty" or geographic appearance, whereas in severe cases, diffuse and homogeneous involvement of the entire marrow compartment is observed.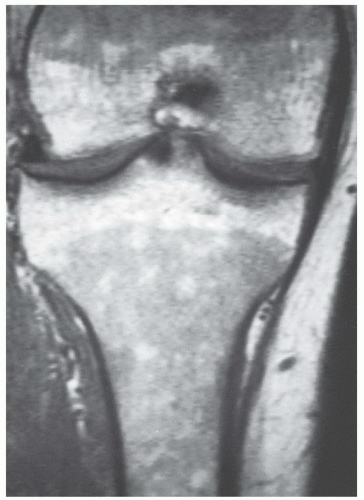 Figure 14.29
Reconversion/persistent red marrow hyperplasia in anemia in a 20-year-old man. A coronal, T1-weighted image (SE 600/17) of the right knee illustrates many features of the reconversion process in a patient with anemia (believed to be alpha thalassemia minor). The fatty marrow that is typically present in the distal femur and proximal tibia of a patient this age has been largely reconverted to (or persists from childhood as) hematopoietic marrow. The large fraction of red marrow present in the distal femur and proximal tibia is evidenced by decreased overall marrow signal intensity at these sites (compared to the normal pattern in
Fig. 14.14
). Note that there has even been some reconversion of yellow marrow to red marrow in the epiphyses.
In a select number of disorders, the combination of two unique MR signal patterns allows for a short list of differential considerations. MR signal patterns associated with reconversion along with marrow hemosiderosis identify chronic hemolytic anemias,
101
a history of multiple blood transfusions (
Fig. 14.31
), acquired immunodeficiency syndrome (AIDS),
102
,
103
Gaucher,
104
or myelofibrosis
105
as the most likely etiologies. Expected MR signal changes include red marrow distribution patterns like those described above for reconversion along with diffuse lowering of red marrow signal intensity on T1-weighted images and greater lowering of signal intensity on T2-weighted images (susceptibility changes) resulting from hemosiderin in the marrow cavity.
Some patients without known bone marrow disorders can display evidence of expanded red marrow fractions in the axial and appendicular skeleton.
48
,
63
,
106
This has been called hematopoietic hyperplasia.
63
The term is gaining
usage in describing situations where increased red marrow presence is observed in otherwise normal individuals. Sites where this phenomenon has been reported include the spine and knee (
Fig. 14.32
), however, it probably occurs at many other locations yet to be specified. This focal red marrow presence is now recognized as physiologic in certain groups of patients. Among these are marathon runners, heavy smokers (more than one pack/day), obese women who smoke, and patients under the age of 39 years.
63
,
106
This finding is also associated with menstruation and living at high altitudes. There probably are other unrecognized settings where this phenomenon occurs. Depleted
iron reserves and stimulation of red blood cell production caused by anemia, tissue hypoxia, elevated erythropoietin levels, and reticulocyte count are speculated reasons for this finding in most instances. The frequency of observed hematopoietic hyperplasia in endurance athletes is approximately 40%.
48
,
63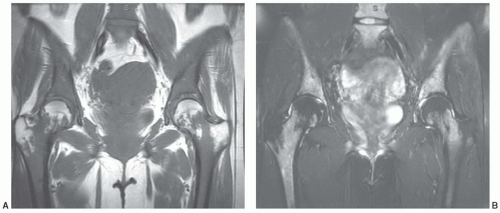 Figure 14.30
Red marrow hyperplasia in a 23-year-old woman with rebound hyperplastic marrow following treatment for leukemia. Bone marrow biopsy demonstrated a 90% hypercellular marrow without leukemia.
A:
Coronal T1-weighted image (FSE 416/37) of the pelvis shows diffuse low signal intensity hyperplastic marrow throughout the lower lumbar spine, innominate bones, and greater trochanters bilaterally.
B:
Coronal fat-saturated T2-weighted image (FSE 4000/90) emphasizes the water content of the hyperplastic red marrow as high signal intensity.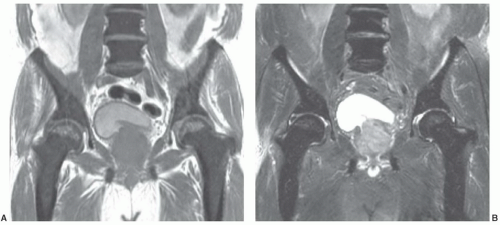 Figure 14.31
Bone marrow hemosiderosis in a 74-year-old man with long-term myelodysplastic syndrome and leukemia whose treatment included hundreds of blood transfusions resulting in dramatic iron deposition throughout his bone marrow manifested as profound T2 shortening.
A:
Coronal T1-weighted image (FSE 550/9) of the pelvis shows very low signal intensity bone marrow (much darker than surrounding muscle).
B:
Coronal fat-saturated T2-weighted (FSE 4350/84) image confirms the dramatic T2 shortening effect.