Disorders of the Cervical Spine
Jason S. Lipetz
David I. Lipetz
The intricately designed and highly mobile cervical spine is routinely subject to unique mechanical stresses that predispose the spinal elements to degenerative change. Three common symptom complexes are associated with the degenerative cascade of the cervical spine. These include cervical axial pain, radiculopathy, and myelopathy (
1
,
2
). These syndromes may occur in isolation or in combination. Axial pain, arising from degenerative discogenic or zygapophyseal joint pain generators, is more commonly described in the middle decades of life (
3
). Spinal nerve root pathology and radicular syndromes may arise from an acutely offending disc injury or more gradually evolving and degenerative neural foraminal compromise (
4
,
5
). Myelopathic symptoms occur when the spinal cord is affected by central canal stenosis (
6
,
7
,
8
). This chapter will review these common degenerative cervical syndromes, the cervical spine in rheumatoid arthritis (RA), and rehabilitative approaches.
AXIAL PAIN AND SYMPTOM REFERRAL
Epidemiology
Cervical spondylosis describes the degenerative change that affects the five articulations of the cervical segment, including the intervertebral discs, the bilateral zygapophyseal joints, and the uncovertebral joints of Luschka (
30
). The degenerative cascade is thought to begin with disc desiccation and loss of disc height, which is followed by an approximation of the uncovertebral joints and a disruption of the normal zygapophyseal joint biomechanics. Uncovertebral and zygapophyseal joint hypertrophy, osteophyte formation, anular disruption, and ligamentum flavum hypertrophy can comprise the ensuing phases of degenerative change (
31
,
32
,
33
). Radiographic evidence of degenerative change is appreciated in 10% of individuals by the age of 25, 35% by age 40, and in up to 95% by the age of 65 (
34
,
35
,
36
). Plain film imaging in asymptomatic subjects reveals degenerative change affecting the cervical spine in 70% of women and 95% of men between the ages of 60 and 65 (
37
). It is essential to remember that although there is typical radiographic evidence of degenerative disease, including loss of disc space height and age-dependent osteophytes, in individuals presenting with cervical pain, not
all individuals with degenerative findings are symptomatic (
3
,
37
). The incidence of neck pain similarly increases with age, progressing in a fairly linear fashion from age 20 through 60 (
3
,
38
). Approximately 95% of individuals will experience cervical pain by the age of 65 (
35
). Severe episodes of neck discomfort will affect 10% of the population at some point in their lives. The annual incidence of significant cervical pain has been estimated at 12.3% (
36
).
Referred pain is pain perceived in a region innervated by nerves other than those innervating the true source of the pain. Pain referral patterns arise as the brain is unable to decipher the true pain origin secondary to convergence at the level of the spinal cord and thalamus. Referred pain is typically experienced as deep, diffuse, and poorly localized pain (
19
). Any of the innervated structures of the cervical spine can contribute to local pain as well as symptom referral. Although injury to the cervical musculature and ligamentous structures can result in local and regional pain (
39
,
40
), the intervertebral disc and zygapophyseal joints have been more extensively investigated as pain generators.
Intervertebral Disc
Degenerative disc disease is most commonly observed at C5-6, with C6-7 involvement the next most prevalent. These intervertebral discs might be more commonly affected because of increased segmental motion at these spinal segments (
41
,
42
). An injured disc, resulting from degenerative change or more acute trauma, can produce local and referred symptoms (
17
). The outer third of the annulus fibrosus houses nerve endings that can be stimulated during injury. It has been suggested that degenerative or traumatic alteration of the internal architecture of the annulus can result in pain production through stimulation of local mechanoreceptors and nociceptors (
17
,
41
). The ability of the annulus to mediate pain has been demonstrated during surgery through mechanical and electrical stimulation of cervical intervertebral discs (
42
). In addition to this mechanical component of disc injury, discogenic pain might also be biochemical in origin. An annular defect could allow for the migration of nuclear material, which might then stimulate the outer annulus, dura mater, posterior longitudinal ligament, dorsal root ganglion, or spinal nerve (
43
). Increased levels of inflammatory mediators have been identified in degenerative and herniated discs when compared with asymptomatic controls (
44
).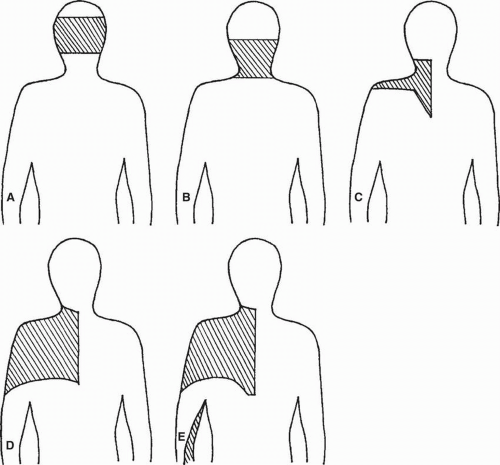 FIGURE 32-5.
Pattern of pain described during cervical discography at each cervical level: C2-3
(A),
C3-4
(B),
C4-5
(C),
C5-6
(D),
and C6-7
(E).
For illustration purposes only, pain is depicted in a unilateral fashion to the left for C4-5 through C6-7. (From Grubb SA, Kelly CK. Cervical discography: clinical implications from 12 years of experience.
Spine.
2000;25(11):1382-1389, with permission.)
Using cervical discography, characteristic discogenic pain patterns have been described (
42
,
45
,
46
). The correlation between cervical disc magnetic resonance imaging (MRI) abnormalities and pain-generating potential observed through discography has been shown to be poor (
46
). In a study of 807 disc injections, 404 concordant pain responses were used to describe pain referral patterns. Pain referral to the scapular region was observed to arise from disc stimulation at the C3-4 through C7-T1 levels. The C5-6 and more caudal segments were noted to refer symptoms to the upper limb, and C6-7 stimulation was unique in that pain was referred to the anterior chest wall (
45
) (
Fig. 32-5
).
Zygapophyseal Joints
The zygapophyseal joints can also become active pain generators in the setting of degenerative change or following trauma.
These posterior elements are particularly vulnerable to injury during a whiplash event. Although often not observed radiographically, zygapophyseal joint fractures, intra-articular hemorrhage, and capsular tears have been observed in pathologic studies (
47
,
48
,
49
,
50
,
51
,
52
,
53
). The prevalence of whiplash-induced zygapophyseal joint pain has been described (
54
,
55
,
56
). Using diagnostic blocks, chronic cervical zygapophyseal joint pain has an estimated frequency of 54% to 60% (
55
,
56
). In this chronic neck pain population, the C2-3 joint has been observed to be most frequently symptomatic, followed by C5-6 (
55
,
56
). Of those patients with chronic neck pain, 58% to 88% describe significant headaches (
54
,
55
,
56
). The prevalence of C2-3 jointmediated headaches has been estimated at 50% to 53% in those individuals with a chief symptom of headache following whiplash (
54
,
56
). The Oc-C1 joints (
54
,
57
,
58
,
59
) and C1-2 joints (
57
,
58
) have similarly been described as active nociceptors in cervicogenic headaches. Studies in a limited number of asymptomatic and symptomatic volunteers have suggested particular resultant pain patterns from intraarticular zygapophyseal joint stimulation and anesthetization (
60
,
61
,
62
). Pain arising from C2-3 stimulation was described as referred to the upper neck and occipital region, whereas C3-4 and C4-5 joint pain was observed to affect the mid- and lower cervical region, extending toward the superior scapular border. Pain from C5-6 stimulation was observed to extend toward the shoulder, whereas C6-7 pain radiated over the more caudal scapular region (
Fig. 32-6
). These degenerative or posttraumatic pain referral patterns arising from primary axial zygapophyseal joint or discogenic pain generators can be difficult to distinguish clinically from one another and from radicular pain presenting without a more distal component or neurologic correlate.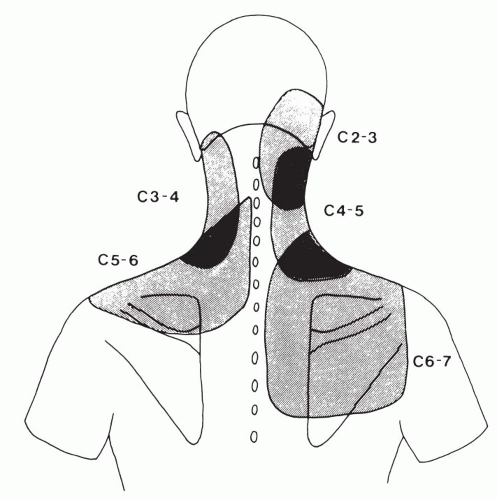 FIGURE 32-6.
Pain patterns described during provocative zygapophyseal joint injection. (From Dwyer A, Aprill C, Bogduk N. Cervical zygapophyseal joint pain patterns 1: a study in normal volunteers.
Spine.
1990;15(6):453-457, with permission.)
A randomized controlled study investigating the therapeutic benefit of intra-articular zygapophyseal joint injections using corticosteroid has suggested that such treatment is ineffective (
63
). A retrospective uncontrolled study of intra-articular C2-3 joint injection in the treatment of post-traumatic headaches has suggested a significant therapeutic response. A randomized placebo controlled trial of radiofrequency neurotomy in patients with unremitting cervical zygapophyseal joint pain has demonstrated a significant treatment effect (
64
). Pain is expected to return following neurotomy, as distal axons innervating the zygapophyseal joint are likely to regenerate.