| | |
| --- | --- |
| CHAPTER 27 | The Thoracic Spine |
OVERVIEW



The thoracic spine serves as a transitional zone between the lumbosacral region and the cervical spine. Despite the fact that the thoracic spine has not enjoyed the same attention as other regions of the spine in terms of research, it can be a significant source of local and referred pain. The thoracic spine is the most rigid region of the spine and, in this area, protection of the thoracic viscera takes precedence over segmental spinal mobility. In addition, the thorax is an important region of load transfer between the upper body (the head, cervical spine, and upper extremities) and the lower body (the lumbopelvic region and lower extremities).1,2




As each thoracic vertebra is involved in at least six articulations, and as many as thirteen, establishing the specific cause of thoracic dysfunction may not always be possible. This task is made more difficult because of the inaccessibility of most of these joints.3



ANATOMY



The thoracic spine (Fig. 27-1) forms a kyphotic curve between the lordotic curves of the cervical and lumbar spines. The curve begins at T1–2 and extends down to T12, with the T6–7 disk space as the apex.4 The thoracic kyphosis is a structural curve that is present from birth.5 Unlike the lumbar and cervical regions, which derive their curves from the corresponding differences in intervertebral disk (IVD) heights, the thoracic curve is maintained by the wedge-shaped vertebral bodies, which are about 2 mm higher posteriorly than anteriorly. The thoracic spine can be divided into five regions based on anatomical and biomechanical differences.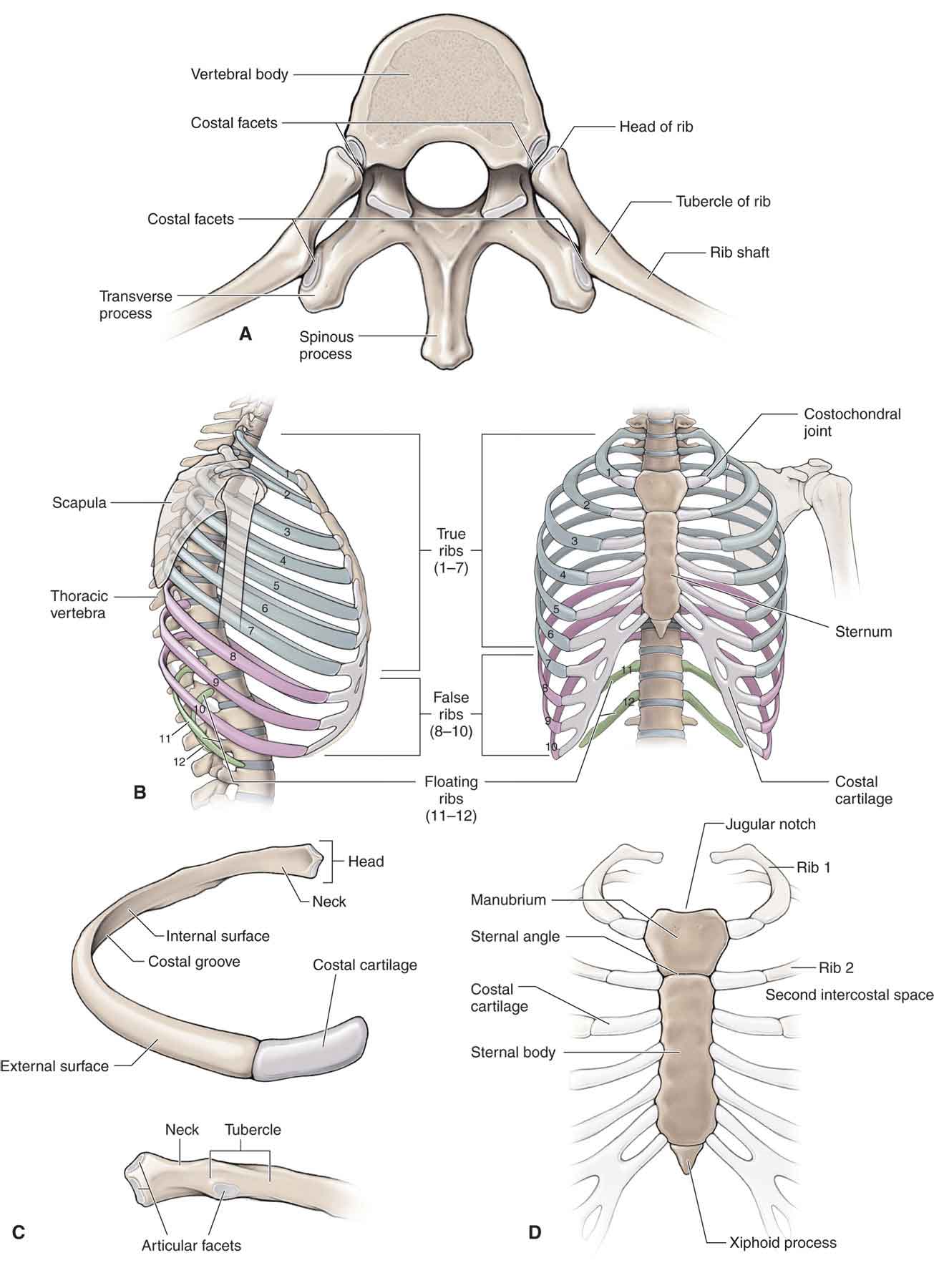 Cervicothoracic: This region comprises the C7–T1 segment and the first rib.

Vertebromanubrial: This region, which has a slight overlap with the cervicothoracic region, includes the first two thoracic vertebrae, ribs 1 and 2, and the manubrium.

Vertebrosternal: This region includes T3–7, the third to seventh ribs, and the sternum.

Vertebrochondral: This region includes T8–10, together with the 8th, 9th, and 10th ribs.

Thoracolumbar. This region includes T11 and T12, and the 11th and 12th ribs. At the thoracolumbar junction, typically located between T11 and L1, the changes in curvature from one of kyphosis to one of lordosis vary quite widely according to posture, age, and previous compression fractures (see Chapter 5) and resulting deformity.6,7






Thoracic Vertebra
---
The thoracic vertebrae consist of the usual elements: the vertebral body (centrum), transverse processes, and spinous process (Fig. 27-1).