OVERVIEW



The structure and design of the hip allow for both mobility and stability,1 the latter of which is particularly important for weight bearing and ambulation. In the human body, the center of gravity is located at the second sacral vertebral level, several segments above and medial to the femoral head. Control of the body mass from such a distant fulcrum requires the generation of significant counterbalance forces as well as the ability of the joint to sustain both high compression and tensile strains.2 Thus, a major function of the hip joint is to provide a pathway for the transmission of forces between the pelvis and the lower extremities.



ANATOMY



The hip articulation is formed by the head of the femur and the acetabulum of the pelvic bone (Fig. 19-1). This articulation is classified as an unmodified ovoid (or ball and socket) joint. The hip joint which, although similar in nature to the shoulder joint, differs in the fact that the former has a deeper acetabular socket and acts as a weight-bearing joint with a smaller total arc of motion.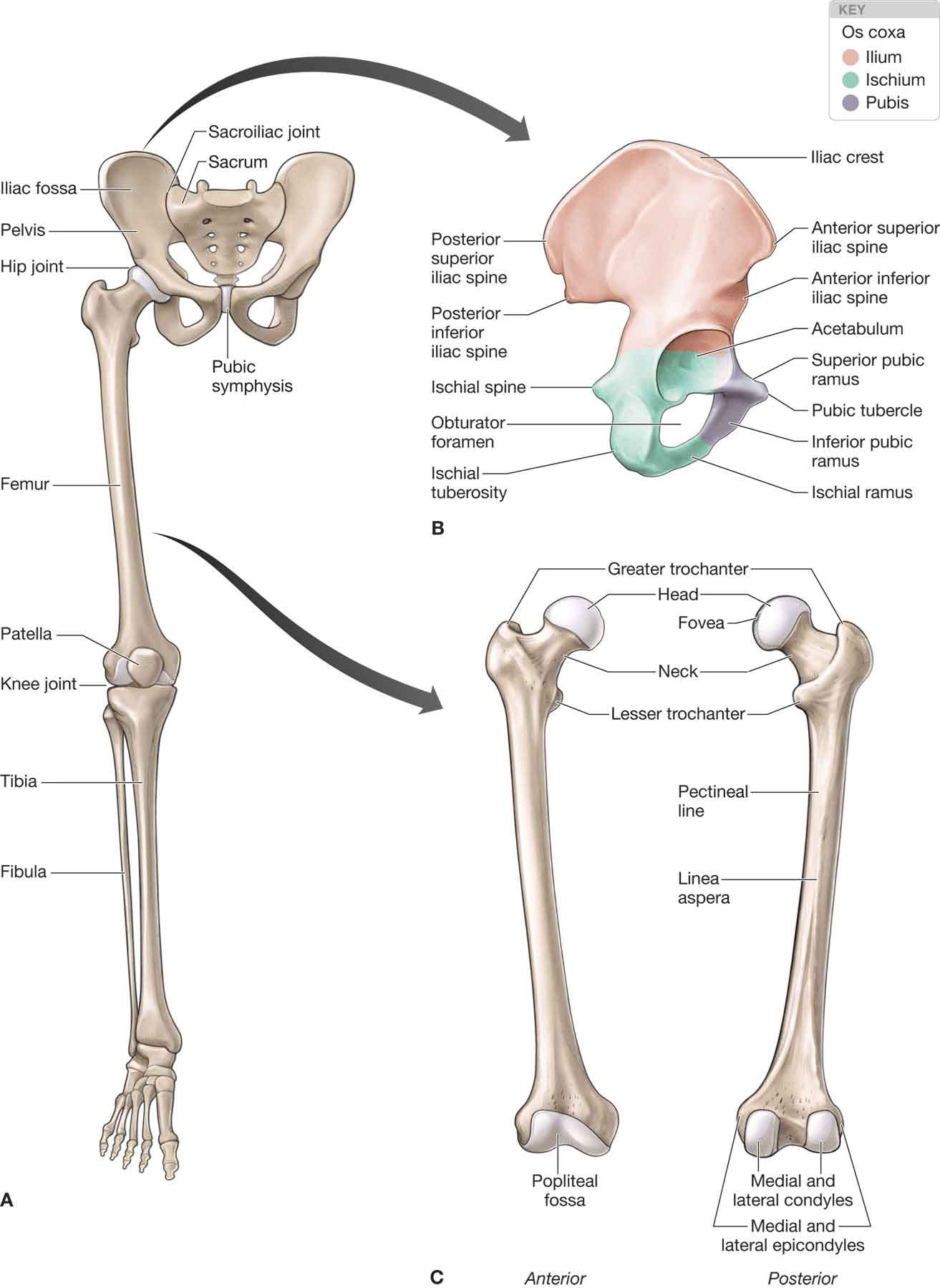 Normal hip joint growth and development occur because of a genetically determined balance of growth of the acetabulum and the presence of a strategically located spherical femoral head.3–7
The os coxa (hip bone), more commonly referred to as the innominate bone initially begins life as three individual bones: the ilium, the ischium, and the pubis (Fig. 19-1). As life progresses, these three bones fuse together.
Ilium
---
The ilium (Fig. 19-1) is the largest of these three bones. It is composed of a large fan-like wing (ala) and an inferiorly positioned body. The body of the ilium forms the superior two-fifths of the acetabulum.

The wing of the ilium spans superiorly from the posterior superior iliac spine (PSIS) to the anterior superior iliac spine (ASIS). The wing serves as the insertion of the gluteus minimus, medius, and maximus.

The anterior surface of the ilium forms a fossa and serves as the proximal attachment of the iliacus muscle.
Get Clinical Tree app for offline access