Miscellaneous Problems: Synovitis, Degenerative Joint Disease, and Tumors; Miscellaneous Conditions: Ligamentum Teres, Synovial Disease, Degenerative Joint Disease, Tumors
LIGAMENTUM TERES
The ligamentum teres is located deep within the central compartment of the hip and is amenable to arthroscopic inspection. Injury to the ligament and many of the pathologic conditions involving it are associated with developmental dysplasia of the hip. Fortunately, dysplastic hips are more flexible, making it easier to distract the hip and diagnose and treat injuries and pathologies of the ligamentum teres. Patients usually present with groin pain and a limp or clicking.
Gray and Villar (
1
) classified pathology of the ligamentum teres using arthroscopic surgery. After looking at 472 consecutive hip arthroscopies, they identified 20 patients with ligamentum teres tears pathology. They placed them in three categories: Group 1, complete ligamentum teres rupture; group 2, partial tear of the ligamentum teres; and group 3, degenerative ligamentum teres (
Fig. 52.1
). All were treated with debridement. There were a few case reports of either tears or avulsion fractures involving the ligamentum teres (
2
,
3
); however, Byrd prospectively looked at 23 patients with ligamentum teres tears and found 7 occurred from violent injuries, such as motor vehicle accidents, 3 from a fall from a height, 3 from football injuries, 1 from snow skiing, 1 from ice hockey and included 6 dislocations. The remaining 8 patients sustained twisting injury. He found a lengthy duration before diagnosis and surgery with an average of 28.5 months. All of his patients experienced groin pain, and 19 of them experienced catching, popping, locking, or giving way, as well as pain with activities. He used a variety of diagnostic tests such as MRI, CT scan, and radionuclide bone scans. The indication for surgery was intractable hip pain.
Simpson and Villar (
4
) described a method for ligateres reconstruction in a 20-year-old using an artificial graft and Endo button. It appears that they are very rare indications, such as persistent hip pain and instability between the head and the acetabulum.
DEGENERATIVE JOINT DISEASE
The arthroscopic treatment of degenerative joint disease (DJD) of the hip remains controversial, challenging, and difficult. Even the most experienced hip arthroscopists avoid the procedure because there are few benchmarks to predict a successful outcome. Prior to 2001, DJD was treated with arthroscopic debridement, labrectomy, synovectomy, and abrasion chondroplasty. In 28 of 290 patients who had partial labrectomies with DJD, only 21% had a good result compared with a 71% good result rate in those without DJD (
14
). Subsequently, with the recognition of FAI and the added correction of the abnormal morphology, the modified Harris Hip Score improved significantly from 72 to 92 with an average of 4 years follow-up (
15
,
16
and
17
).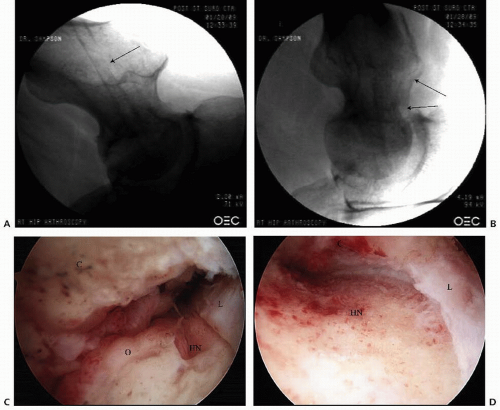 FIGURE 52.4.
Osteoplasty femoral head-neck for postcervical neck fracture causing impingement and arthritis
A:
A-P and
B:
Abduction Internal Rotational lateral Radiographs, note the residual markings from the hardware bone changes, and head-neck deformity (
arrows
),
C:
Arthroscopic view anterolateral portal
(O)
osteophyte and synovitis,
(L)
labrum;
D:
After synovectomy and osteoplasty;
A residual head-neck deformity from femoral neck fractures has been a cause of FAI and DJD. Reshaping of the deformity has been done using an open surgical dislocation by Eijer et al. (
18
). We have treated the DJD and deformity with an arthroscopic head-neck osteoplasty and debridement, synovectomy, and abrasion chondroplasty with microfracture in three patients (
Fig. 52.4 A-F
).