All-Inside Arthroscopic Meniscal Repair
Matthew J. Goldstein
Nicholas A. Sgaglione
Meniscal preservation is essential for maintaining articular cartilage homeostasis, joint congruence, stability, and proprioception (
1
). In younger and more active patients, meniscal repair remains the preferred method of treatment for unstable meniscal tears and may play an important role in optimizing knee function (
2
,
3
) and delaying the progression of degenerative disease. Owing to the important physiologic role that meniscal tissue plays in the knee, meniscal repair is advocated in young athletically active patients (
4
). The indications for repair may be heightened in those patients who present with meniscal tears and associated concomitant pathology such as anterior cruciate ligament tears or those requiring articular cartilage resurfacing or axial realignment osteotomies (
5
). Furthermore, as our knowledge and understanding of meniscal pathophysiology, healing, biomechanics, and minimally invasive repair improve, indications for repair are likely to expand. All-inside arthroscopic methods using novel suture-based devices represent a potentially effective and minimally invasive approach to meniscal repair. Adjuvant biologic therapies, such as platelet-rich plasma also appears promising and may increase the potential of repairing "irreparable meniscal tears" and improve the clinical success of surgically repaired "biologically-at-risk" tears.
CLINICAL EVALUATION
Knee kinematics predicts that internal rotation of the femur on the tibia forces the medial meniscus posteriorly and toward the center of the joint. If a meniscal attachment is abnormally loaded (peripheral or otherwise), as the posterior portion of the meniscus is forced toward the center of the joint, it may be caught between the femur and tibia, and resultant meniscal tearing can occur with further extension of the joint.
Patients with meniscal injuries typically present with clinical symptoms of focal joint line pain, swelling, and discomfort at the extremes of motion as well as specific mechanical symptoms such as catching, locking, and loss of extension. Physical examination should include evaluation and assessment of anatomic and mechanical axial alignment as well as signs of effusion, antalgia, loss of motion, focal joint line point tenderness, joint locking/clicking, and pain with squatting in terminal flexion and with axial compression. Manual examination for meniscal pathology has been reported to have a sensitivity and specificity of 55% to 85% and 29% to 67%, respectively (
6
). Provocative maneuvers for meniscal pathology include McMurray's test, the Apley grind or compression test, the Thessaly test, the Steinmann test, and Childress (squat) test (
6
,
7
and
8
). McMurray's test is performed by placing a varus or valgus stress to a flexed knee while extending, and is a reliable examination maneuver for diagnosing meniscal tears. The sensitivity of McMurray's test has been reported at 16% to 37%, with specificity at 77% to 98%, and a positive predictive value of 83% (
6
,
7
). Similarly, the Apley grind or compression test, performed by flexing the knee, rotating, and compressing, has been reported to have a sensitivity of 13% to 16%, a specificity of 80% to 90%, and overall accuracy of 28%. The Thessaly test, in which the patient stands flatfooted on the floor and rotates at the knee in 20° of flexion internally and externally, has been reported to have a sensitivity, specificity, and overall accuracy of 89%, 97%, and 94%, respectively for medial meniscus tears and 92%, 96%, 96%, respectively for lateral meniscus tears (
8
). The Steinmann test is performed as a flexed knee is internally and externally rotated at the foot, whereas the Childress (squat) test elicits symptoms with the patient fully squatting with feet in internal and external rotation. The Bounce home test is performed with the patient supine by holding the great toe or forefoot and then attempts to identify a sharp endpoint as a fully flexed knee is taken to full extension or even hyperextension. A positive test occurs when full extension is unable to be obtained.
Clinical assessment for meniscal tears should always include plain roentgengrams, which should be evaluated to assess for crystal arthropathy, osteoarthritis, osteonecrosis, osteochondral defects, and calcification. Radiographs
should include extension weight bearing anteroposterior, lateral, notch, and patella skyline views. Weight-bearing 45° flexion posteroanterior comparison views should also obtained to assess a narrowed joint space in cases where articular cartilage wear is suspected. Routine magnetic resonance imaging is often not necessary for diagnosis of meniscal injury but may prove valuable in a more comprehensive evaluation of the knee.
TREATMENT
The meniscus is mainly composed of type I collagen fibers (although types II, III, V, and VI have been identified) oriented in circumferential, radial, and perforating (random) directions. Classic tear patterns have been described and classified as vertical longitudinal, horizontal cleavage, radial, oblique, flap or parrot beak tears, and bucket handle tears (
Fig. 56.1
).The ultrastructural anatomic distribution of these fibers provides rigidity and tensile resistance and accounts for the characteristic tear patterns observed with failure. For example, ultrastructural failure at the junction of the circumferential bands characteristically results in a vertical tear, whereas failure along the radial tie fibers results in a radial tear (
Fig. 56.2
).
In a case series of 378 knees in 364 young athletes (285 males, 79 females, mean age 22.3, range 16 to 32) described by Terzidis et al. (
9
), meniscal tears were reported more often in the medial meniscus (69.3%) than in the lateral meniscus (30.7%). Although the majority of tears involved only the inner half of the meniscus (70.2% in the medial meniscus, 91.4% in the lateral meniscus), 23.3% of overall tears extended into the peripheral half of the meniscus. In addition, 74.8% tears involved the posterior horn (22.7% in the middle body and 2.5% in the anterior horn). Bucket handle tears occurred most often (23.1%), followed by longitudinal (18.2%), horizontal (17.4%), oblique (16.4%), radial (14.4%), and flap tears (10.5%).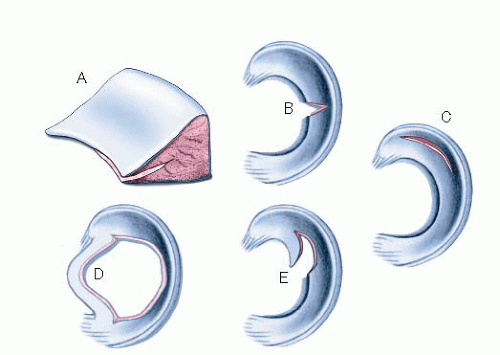 FIGURE 56.1.
Tear types,
(A)
horizontal,
(B)
vertical radial,
(C)
vertical longitudinal,
(D)
bucket handle,
(E)
flap.
DECISION MAKING—REPAIR VERSUS RESECT
TECHNIQUES
Meniscus repair techniques include open, arthroscopically assisted, and all-arthroscopic methods. Currently, arthroscopic-assisted meniscal repair techniques are considered preferable owing to shorter operative times and reduced patient morbidity.
The outside-in technique initially described by Rodeo and (
22
), is best indicated in meniscal tears involving the mid- and anterior one-third portions of the meniscus and for provisional fixation and stabilization of unstable tear fragments (use of traction and reducing stitch). An 18G spinal needle is passed percutaneously from outside to inside the joint through the meniscal tear. The technique allows for placement of variable suture patterns for repair while maintaining a safe vector, well anterior to the posterior neurovascular bundle.