Fig. 34.1
(
a
,
b
) Vestibular retraining (VOR, horizontal canal)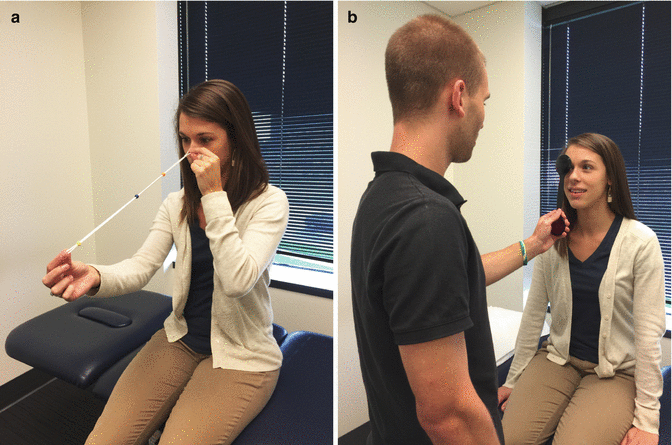 Fig. 34.2
Oculomotor retraining. (
a
) Convergence; (
b
) unilateral ocular focus retraining
Concussion management can be daunting for both the medical professional and the extreme sports athlete. This area continues to be a focal point for research. As more evidence and information is produced regarding management, clinicians as well as the athlete will feel more comfortable and confident working through the evaluation and rehabilitation process. There is evidence pointing us in the direction of a strong clinical examination to aid our diagnosis, a thorough step wise return to activity and sport, and cervicovestibular rehabilitation if symptoms are protracted [
24
]. We can use this information to better assess, and assist the extreme sport athlete to full recovery after a concussion.
34.3

Shoulder Dislocation

Shoulder dislocation is common in several extreme sports, including windsurfing, surfing, snowboarding, skiing and kayaking [

25

–

30

]. As with most shoulder dislocations, the anterior variety appears to be the most common [

31

]. Traumatic anterior shoulder dislocation (ASD) commonly occurs with the arm in abduction and external rotation and leads to predictable anatomic injuries (Table

34.1

). Generally, a combination of shoulder abduction with external rotation and extension can lever the humeral head out of the glenoid fossa and dislocate the shoulder. Extension of the elbow also increases the force transmitted along the arm, increasing the risk of wrenching the humeral head out of the glenoid fossa [

32

–

34

].
| Injury | Description |
| --- | --- |
| Bankart lesion | Avulsion injury of the labrum ± capsular injury inferior to the equator of the glenoid |
| Anterior labral periosteal sleeve avulsion (ALPSA) | Lesion of the anterior band of the inferior glenohumeral ligament, the labrum, and the anterior scapular periosteum |
| HAGL lesion | Humeral avulsion of the glenohumeral ligament |
| IGHL damage | Plastic deformation or tear ± complete mid-substance tears of the capsule |
| Glenoid rim fracture | Shear fracture or avulsion fracture of the IGHL attachment |
| Hill-Sachs fracture | Impression fracture of the posterosuperolateral humeral head |
| Greater tuberosity fracture | Fracture of greater tuberosity of humerus – serves as the insertion site of the rotator cuff tendons |
| Rotator cuff tear | Full- or partial-thickness tendon tear to one or more of four muscular divisions: (a) the subscapularis, (b) the supraspinatus, (c) the teres minor, and (d) the infraspinatus |
Examples in pertinent sports are the following: in kitesurfing and wakeboarding shoulder dislocations are generally the result of unsuccessful tricks and jumps, in particular handle pass maneuvers [
35
,
36
]. ASD is the most common upper extremity injury in windsurfing, usually caused by hanging onto a boom during a fall. Among skiers and snowboarders, shoulder dislocation is usually a consequence of a fall onto an outstretched hand with an element of rotation [
29
,
30
]. In surfing, shoulder dislocation usually occurs while paddling with a poor, wide armed technique or in rough water [
38
–
43
]. In white water paddle sports, strenuous high brace supports to avoid capsizing have been associated with traumatic ASD as poor high brace technique is considered to make the shoulder vulnerable [
31
,
41
].
Also, in skydiving a threat to the shoulder joint stability may depend on "swimming around in thick fluid airstreams" [
43
].
34.3.1

Diagnosis and Management
34.3.2

Rehabilitation

Rehabilitation after ASD is paramount to avoiding future dislocation and allowing the athlete to return to their sport.

If confidence is lacking, there is the risk of compensating with inappropriate movements, increasing the risk of re-injury and instability. Return to sporting activity should be undertaken gradually, in favorable environmental conditions, temporarily avoiding demanding and risky activities such as rough water in water sports, or wet snow slopes in winter sports. It is also useful to determine if the athlete's specific sporting technique can be improved to prevent recurring symptoms and injury by encouraging the use of the entire kinetic chain in athletic technique, making inappropriate muscle activation at the shoulder girdle less likely.

Overall, shoulder dislocations are common in the extreme sport athlete but with proper treatment and rehabilitation, athletes may return to their sport safely.
34.4

Acute Low Back Pain

Acute low back pain (LBP) is defined as 6–12 weeks of pain between costal angles and gluteal folds that may or may not radiate into lower extremities [

77

]. Non-specific LBP is defined as LBP not attributed to identifiable, known specific pathology (e.g., tumor, infection, ankylosing spondylitis, osteoporosis, fracture, cauda equina syndrome) [

77

]. Most patients resolve symptoms however, 31 % of patients with LBP will not fully recover in 6 months [

77

].

LBP is a commonly managed condition in most care providers' offices, as two thirds of adults will be affected in their lifetime [

77

]. For scope of this chapter and following suit of previous two conditions, acute LBP will be focused on from diagnosis to best evidence based management. It is appreciated that chronic LBP differs in management and will be outside the scope of this chapter.

Prevalence rates have been speculated to be higher in endurance athletes, and although no large studies have been performed for LBP in extreme sport athletes, studies have been performed in skiers and rowers, which can be generalized with understanding of its limitation. Endurance athletes in skiing and snowboarding have no increased incidence of LBP than the general population; although a slight increase in prevalence of LBP in rowing type sports secondary to obvious environmental requirements are noted [

78

,

79

]. Incidence rates are also prevalent in water sports, including: sailing, and wind surfing, where 79 % of professional wind surfers report to having LBP [

80

–

83

].
34.4.1

Diagnosis and Management

Other area of common focus is disc pathology. Adolescents in elite sports with severe lumbar anterior end plate lesions may have an increased risk for LBP. However, in the acute patient, this may lend little information to treatment in conservative management. Often, asymptomatic patients demonstrate disc pathology indicating possible lack of use for clinical decision-making.

If the patient is deemed appropriate for rehabilitation management for their acute LBP, discussion changes from pathology to progression of training, correcting faulty technique and use of manual techniques for pain management.
34.4.2

Rehabilitation

Again, recommendations for stabilization exercises are not clearly stated across country-to-country guidelines. Common to the theme of manipulation, this may be secondary to heterogeneous population samples concerning LBP. Per European guidelines, back-specific exercises (e.g., strengthening, flexion, extension, stretching) are considered not useful during the first weeks of an episode. Yet again, variability of guidelines lends little guideline to rehabilitation programs and therapist choices of interventions therefore, best available evidence should be considered when managing the extreme sport athlete with acute LBP.

The athlete should demonstrate adequate positioning of the spine to reduce lumbar loading forces seen in their sport to reduce pain and future episodes and also to increase patient's comfort level with returning to activity. For example, transverse abdominus is retrained supine with drawing in maneuver, progressed to quadruped control, then into squat form retraining, and finally sport specific retraining to ensure athlete maintains control of lumbar spine in static and dynamic environments. Once the athlete demonstrates spine control, confidence and understanding of back management patient is discharged to independent program.

Overall, management of the athlete can derive along classification systems with a dose of expert opinion. Use of manual techniques to reduce acute pain are indicated in non-specific LBP, use of directional preference to reduce initial pain and/or centralize symptoms, progression of strengthening from static to dynamic environments are all commonly used, and evidence based techniques are used internationally for this population.