Osteochondroses of the Foot and Ankle
Lawrence M. Fallat
Jeffrey C. Christensen
Jacob A. Hord
The term
osteochondrosis
has been used for a variety of painful disorders involving an actively growing epiphysis or an apophysis. At one time, all of these disorders were thought to be related to trauma with a subsequent avascular necrosis. Today, disorders that are believed to involve an osteonecrosis include Freiberg disease, Mueller-Weiss syndrome, Buschke disease, osteochondral lesions of the talus, and possibly Köhler disease. Sever and Iselin diseases result from repetitive stress to the secondary growth center or, in the case of Iselin disease, a normal variant of enchondral bone formation.
OSTEOCHONDRAL LESIONS OF THE TALUS
Transchondral lesions represent a localized injury to the articular surface of a joint as well as a corresponding portion of subchondral bone. In the ankle joint, the injury is usually represented by the compression or separation of a fragment from the dome of the talus. If healing does not occur following the injury, then the fragment may undergo avascular necrosis. These lesions can be a source of significant pain and disability. Once thought to be uncommon, transchondral lesions of the talus are being diagnosed with greater frequency as a result of increased physician awareness and more accurate diagnostic imaging techniques.
Early investigators who had observed loose bodies in joints speculated about the possible factors that would cause a small fragment of bone and cartilage to separate from the articular surface. The first case of a loose bone fragment in the ankle joint was reported by Alexander Munro in 1856. Although no attempt was made to classify the process, he did believe that the lesion was the result of an injury (
1
). Konig, in 1888, appears to have started the controversy regarding the etiology of these lesions when he reported on several unattached bodies in the knee joint (
2
). In that era, these fragments were referred to as arthrophytes or corpora mobile (
3
). Konig believed that these lesions could not have been caused by any known disease, tumor, or traumatic event and decided that the etiology was due to an inflammatory process of the joint surfaces that resulted in a spontaneous necrosis of a portion of bone. He termed these lesions "osteochondritis dissecans" (
2
). The word "osteochondritis" referred to the inflammatory process in the joint and "dissecans" is derived from the Latin word
dessec
, which means "to separate" (
3
). Later investigators would find no inflammatory cells in the fragments; however, the term of osteochondritis has persisted to the present day (
3
).
Kappis (
4
), in 1922, was the first to apply the term osteochondritis dissecans to the ankle joint. Rendu (
5
), in 1932 reported a case of a loose body in the ankle joint that he called an intraarticular fragmentary fracture of the talus, indicating his belief that trauma was the origin of the lesion. The lesion Rendu described was based on radiographs and appears to be the same as those described by Munro (
1
) and Kappis (
4
). Fairbanks (
6
), in 1933, wrote that trauma without any underlying vascular disturbances was the only etiology of loose intraarticular bodies. In 1953, Roden et al (
7
) presented the first thorough study by reviewing 55 cases of osteochondral lesions of the talus. A considerable amount of information was obtained from their investigation that would prove valuable in understanding this condition. They determined that the lateral lesions were more often due to trauma, rarely healed spontaneously, and created more symptoms than those found medially. Surgical treatment was recommended for the lateral lesions because they frequently resulted in arthritic changes in the joint (
7
).
A greater understanding of the osteochondral lesions was obtained in 1959 with the study by Berndt and Harty (
8
). The investigators determined experimentally, using cadaver limbs, that trauma resulted in localized fractures of the talar dome. They were also able to define the mechanism of injury of both medial and lateral lesions. Attempting to reflect the etiology of trauma and the location of the injury on the talar dome, they introduced the term "transchondral fracture" to describe osteochondral lesions in this site. O'Donoghue (
9
,
10
and
11
) published several articles discussing osteochondral fragments in the knee and supported the concept of a traumatic etiology. Much of what he had written was believed to apply to the lesions found in the ankle as well (
12
).
Despite the fact that antecedent trauma appears to be the etiology for most lesions, others continued to believe that there could possibly be an alternative etiology because of the many reports of transchondral lesions without a history of injury (
13
). Some authors believed that lateral lesions were likely to be created by traumatic events but questioned the etiology of medial talar dome lesions (
7
,
14
). Flick and Gould (
15
) reviewed the medical literature and determined that 98% of lateral lesions and only 70% of the medial lesions were reported to have been caused by trauma. Campbell and Ranawat believed that ischemic changes may play a role in the development of osteochondral lesions. They were able to demonstrate, in their specimens, that bone infarction preceded pathologic fracture through the subchondral bone and suggested that repeated minor episodes of trauma may result in fracture and eventual separation of the osteochondral fragment (
16
).
Others have proposed that there are two forms of osteochondritis. One type develops in older children and adults and is attributable to a traumatic event. Another form, occurring in children, is due to localized avascular necrosis. Smith (
17
) noted that these lesions were often multiple and sometimes familial. Smillie also believed that there was both an adult and juvenile form of osteochondritis. It was proposed that in the juvenile form, there was an underlying abnormality of ossification, most often of enchondral dysostosis, leading to the development of an accessory ossification center. If subsequent trauma disturbed the blood supply to this area, the resultant ischemia resulted in osteochondritis (
18
).
Other potential etiologies for osteochondritis that have been proposed have included a congenital predisposition to
aseptic separation of the articular osteochondral fragment (
19
), other congenital or hereditary factors (
20
), embolism of the epiphyseal arteries (
21
), endocrine imbalance at the time of puberty (
22
), and developmental abnormalities (
23
). Axhausen (
24
) believed that impaction from opposing articular surfaces damaged blood vessels leading to necrosis of the area supplied by these vessels. This led to absorption, separation, and eventual extrusion of the dead portion of bone into the joint. In one study evaluating the family members of 34 patients with osteochondritis dissecans and 86 of their firstdegree relatives, only 1 additional individual was found to have osteochondritis dissecans. Association with other forms of osteochondritis dissecans, endocrine disorders, and dwarfism could not be demonstrated (
25
).
INCIDENCE
Transchondral lesions have been reported to compose 0.09% of all fractures (
26
) and 1% of all talar fractures (
27
). The prevalence has been estimated to be 0.002 cases per 1,000 people (
28
). Osteochondritis dissecans of the talus accounts for 4% of all reported cases of osteochondritis (
29
) and osteochondral lesions of the talus are the second most common location for this process after the lateral aspect of the medial epicondyle of the knee (
30
).
The number of reported cases of transchondral lesions is probably well below the actual incidence. In one study, emergency room physicians misdiagnosed seven of 16 patients as having a sprained ankle, yet retrospective review of the radiographs demonstrated the transchondral fracture (
15
). In some instances, the average length of time from the onset of symptoms to the diagnosis has been as long as 36 months (
31
). Transchondral lesions have been found in 6.5% of 133 patients treated for sprained ankles. Most of these injuries occurred while the patients were participating in sports-related activities (
32
). Therefore, it would seem logical that in some instances, the associated osteochondral fracture would remain undiagnosed without a high index of suspicion.
Transchondral lesions have been reported in both sexes, but a slight majority is seen in males in their second through fourth decades. The average age is about 25 years, although cases have also been reported in patients in their fifth and sixth decades of life (
15
,
29
,
33
,
34
,
35
,
36
,
37
,
38
,
39
,
40
,
41
,
42
and
43
). Although they are not as common, children may also sustain transchondral injuries. Wester et al (
44
) reported that of 18 children in his study, the ages ranged from 2 to 14 years, with the average age at the time of injury being 9 years. In a similar report involving 18 adolescents with transchondral lesions, the ages of the patients ranged from 9.9 to 16 years, with the mean age being 14.2 years (
45
). Some controversy exists regarding healing of transchondral lesions in children. It has been proposed that the lesions healed spontaneously (
28
), but in one report, there were three cases of transchondral lesions in children that did not heal with conservative treatment (
15
).
CLINICAL PRESENTATION
Because of the chronic nature of many transchondral lesions of the talus and the variation in the severity of damage to the talar dome, there are no specific pathognomonic clinical signs of this condition. Because the mechanism of injury associated with the lesions is inversion of the ankle, transchondral fractures may be suspected in patients with a history of a sprained ankle. A large number of patients who present with talar dome lesions recall a previous ankle injury (
31
,
37
), and in some instances, this consisted of an ankle fracture (
37
).
With recent acute injuries, the patient may present with the usual signs and symptoms of a sprained ankle consisting of pain, swelling, ecchymosis, erythema, and reduced motion as a result of guarding. Gradually, the symptoms associated with the acute ankle sprain will improve, but if a transchondral lesion is present, the ankle may never become completely asymptomatic or the patient may do well for a period of time only to develop later symptoms (
45
,
46
).
The symptoms of a chronic transchondral lesion may include pain, swelling, locking of the joint, stiffness, ankle instability (
45
,
46
), chronic sprains without locking of the ankle, functional instability of the ankle, and a decreased range of motion with synovial effusion (
45
). In one large study, the most common symptoms appeared to be pain with activity, daily pain, pain occurring weekly, night pain, and swelling. The physical examination did not prove to be very helpful in diagnosing transchondral lesions. Fifty percent of the patients had a slight decrease in ankle joint range of motion, and plantarflexion was usually reduced. Twenty percent of the patients also had some loss of subtalar joint motion (
31
).
LOCATION OF THE LESIONS
Berndt and Harty were the first to determine the characteristic locations of transchondral lesions of the talar dome. In their cadaveric study, they demonstrated that 43.7% of the lesions occurred laterally, most of which were in the middle third of the talar dome. There was a 56.3% incidence of medial lesions, which were usually located in the posterior third of the medial border of the talar dome (
Fig. 54.2
) (
8
). Most investigators have reported a similar incidence and pattern of location, although some authors have found the lateral location to be the most common, and lesions have been noted to develop at different positions on each border of the talar dome (
12
,
14
,
15
,
37
,
50
,
51
). Central transchondral lesions have also been reported, although at a very low incidence (
14
,
52
,
53
), and cases of both medial and lateral lesions in the same ankle have been reported (
34
,
37
). Loomer et al (
31
) found the location of transchondral lesions to be more diverse than had been previously reported, with the location varying around the periphery of the talar dome. The most common sites were the anterolateral quadrant, followed by the posterior medial quadrant (
Fig. 54.3
) (
46
). Raikin et al retrospectively reviewed MRI examinations of 424 patients and found that the medial central talar dome was most frequently involved with 53.0% of the lesions located there. The lateral central portion of the talar dome was second representing 25.7% of the lesions (
54
) (
Fig. 54.4
).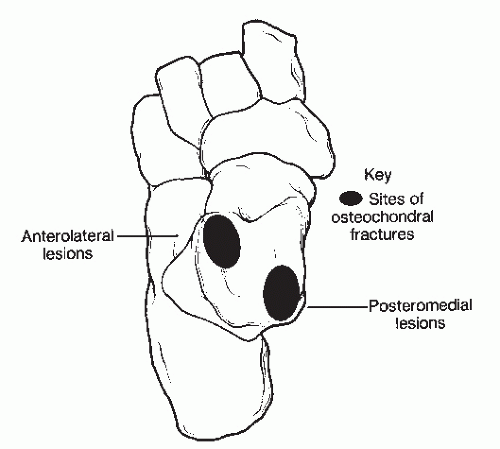 Figure 54.2
The typical anatomic sites for osteochondral lesions of the talar dome according to Berndt and Harty. Posteromedial lesions are usually more stable and less likely to be symptomatic than lateral lesions.
The frequency of occurrence for each stage of transchondral lesions was usually not reported until recently. Loomer et al (
31
) reported 2% of the cases in their series were compression injuries, 1% were partial fractures, 13% were complete but undisplaced, and 7% were displaced fractures. Ly and Fallat (
37
) reported that stage II lesions were the most common of the lateral lesions and stage III were the most frequent medial lesions.
TREATMENT
In general, most authors treat stage I and stage II lesions conservatively regardless of their location. This is generally true for stage III medial lesions as well. Conservative treatment consisting of reduced activity and limited ankle motion has been advocated for acute stage I lesions (
56
). Casting would also be appropriate for this stage and has generally been recommended for acute stage II lesions (
14
,
58
). However, treatment criteria for stage III transchondral lesions appears to be more controversial, with recommendations ranging from long periods of conservative care to immediate surgery. Canale and Belding (
14
) recommended surgery for all stage III lateral transchondral lesions but believed that stage III medial lesions should be treated conservatively with casts, patellar braces, ankle corsets, or arch supports. However, if symptoms persisted, surgery should be performed consisting of excision and curettage of the lesion. Loomer et al (
31
) recommended surgical intervention for chronic stage III lesions consisting of excision if the fragment was small and fixation for larger fragments. Flick and Gould (
15
) reported that patients treated conservatively for stage III lesions had reduced levels of athletic activity, whereas those who had surgery returned to their preinjury level of activity. They recommended that all symptomatic stage II and stage III lesions that have not responded to conservative care should be treated surgically. However, it would appear appropriate to consider early operative intervention in lateral stage III lesions. All investigators seem to agree that both medial and lateral stage IV lesions should be treated surgically. This typically consists of removal of loose bodies, and in chronic lesions, drilling and curettage of the defect or reduction with fixation of large fragments seen in acute injuries (
15
,
41
,
48
,
51
,
58
,
63
,
71
). Chen and
Wertheimer (
53
) recommended early surgical intervention for central transchondral lesions because of the high level of compression transmitted through the central portion of the talar dome.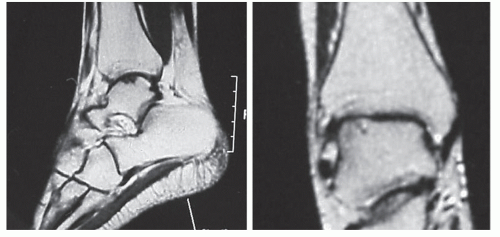 Figure 54.10
MRIs of an osteochondral lesion of the talus. This imaging modality is valuable in providing the specific location and size of the lesion and integrity of the articular cartilage.
Fibrin sealant, a physiologic glue containing freeze-dried human fibrinogen, bovine aprotinin, calcium chloride, and bovine thrombin has also been employed to fix stage III and
Full access? Get Clinical Tree
Get Clinical Tree app for offline access