Legg-Calvé-Perthes Syndrome
Legg-Calvé-Perthes disease remains one of the most controversial topics in all of pediatric orthopaedic surgery. The debate about its etiology and pathogenesis continues, and there is no unanimity regarding treatment. This chapter reviews what is known about the condition, points out where controversies exist, and highlights the problems in decision making regarding treatment.
NATURAL HISTORY
The formulation of disease treatment requires that the treating physician knows what would happen to the patient in the absence of treatment (natural history) and what factors prognosticate an adverse outcome. The treating physician must determine which of these adverse prognostic factors can be affected by treatment. A treatment plan is then initiated, and long-term follow-up determines whether treatment favorably alters the course of the disease over the long term. The fundamental problem in developing treatment plans for patients with Legg-Calvé-Perthes syndrome is the paucity of natural history data (
72
,
203
,
204
,
205
and
206
).
Catterall (
203
) compared 46 untreated hips of Murley and Lloyd-Roberts with a matched control group of 51 hips treated with a weight-relieving caliper. The average age at diagnosis was 4 years and 6 months, and the average follow-up was 10 years and 5 months, with a range of 4 to 18 years. The patients were evaluated according to the grading system of Sundt (
121
), which requires some subjective assessments. The 10-year average follow-up in this series was too short to determine the outcomes for patients and thus the natural history of the disease, because most patients with childhood hip disease do well regardless of the radiographic appearance in their early years (207—210). In addition, no data are presented on the interobserver or intraobserver reliability of the outcome criteria.
Catterall (
203
) also reported on 97 untreated patients from around the British Isles (
203
). The average follow-up in this series was only 6 years, and the results were graded according to the aforementioned system of Sundt (
121
). The outcomes in this group of patients (
Table 24-1
) are widely quoted in the literature as a comparison for outcomes of various treatment modalities. Unfortunately, very few articles in the literature use the same grading system for outcomes, and the follow-up of this group is too short to be defined as natural history.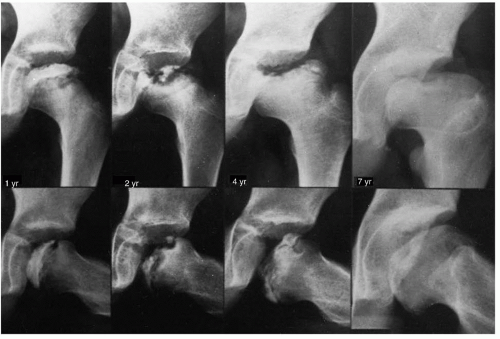 FIGURE 24-13.
A 7-year follow-up from presentation in a patient with Catterall group 4 disease, who had a lateral growtharrest pattern. At maximal fragmentation, the radiographic classification would be Salter-Thompson type B and lateral pillar type C disease. (From Weinstein SL. Perthes' disease: an overview.
Curr Orthop
1988;2:181.)
The only other article labeled "natural history" in the literature (
206
) is not a natural history study but a study of patients from three centers treated by different methods. This study attempted both to establish a relation between residual deformity and degenerative joint disease and to identify clinical and radiographic factors in the active phase of disease that would be predictive of hip deformity and degenerative joint disease. Therefore, as will be further discussed later in the chapter, decision making with reference to treatment is difficult because of the lack of true long-term natural history data.
Long-Term Follow-Up Results.
Although there is little information available on natural history, there are many longterm follow-up studies of patients with Legg-Calvé-Perthes syndrome. The long-term studies that are available suffer from the faults of retrospective long-term reviews in that most series contain only small numbers of patients, with many of the original patients not traced; original radiographs often are not available. Many of the longer series contain patients diagnosed in the years 1910 to 1940, when little was known about the disease, prognostic factors, and radiographic classifications. In most series, patients are combined regardless of what are now known to be prognostic factors: the extent of epiphyseal involvement, age at onset of the disease, age at the beginning of treatment, and stage of the disease at treatment initiation. Various treatment modalities are combined in many series, and control groups are generally absent. Because of these inherent problems, and the fact that different grading systems are used in judging clinical and radiographic end results, all of which lack interobserver and intraobserver reliability data, it is difficult to compare and contrast the various reported series. Despite these shortcomings, a great deal has been learned about the prognosis in Legg-Calvé-Perthes syndrome.
Prognostic Factors.
In reviews of long-term series of patients with Legg-Calvé-Perthes syndrome, certain clinical and radiographic features have been identified that have prognostic value (
193
,
197
,
210
,
219
,
220
,
221
,
222
and
223
) (
Table 24-2
). The most important prognostic factor in determining the outcome is the residual deformity of the femoral head, coupled with hip joint incongruity (
224
,
225
and
226
). Femoral head deformity and joint incongruity are multifactorial problems. They are interrelated with all of the other prognostic factors. It must be kept in mind that Legg-Calvé-Perthes syndrome represents a growth disturbance of the proximal femur; the epiphyseal and physeal cartilage is abnormal. Other key factors involved in the development of deformity include the extent of epiphyseal involvement and the varying degrees and patterns of premature physeal closure associated with this condition (
227
).

FIGURE 24-17.
This patient had disease onset at 8 years and 3 months of age. At 46 years of age (38-year follow-up), the Iowa Hip Rating was 88 points
(A
). At 58 years of age (50-year follow-up), there was a loss of 21 points on the Iowa Hip Rating, to 67
(B
). At 60 years of age, just before arthroplasty, the Iowa Hip Rating was 60 points
(C
). (From Weinstein SL. Legg-Calvé-Perthes' disease: results of long-term follow-up. In: Fitzgerald RH Jr, ed.
The Hip: Proceedings of the Thirteenth Open Scientific Meeting of the Hip Society.
St. Louis, MO: Mosby, 1985:28.)