7 Joint and Soft-Tissue Calcification



Deposition of calcium in abnormal locations may take two forms: calcification or ossification. They can be roentgenologically differentiated from each other. Calcification is seen as structureless density; ossification shows organization into trabeculae and cortex (Figs. 7.1 and 7.2).




Calcification of soft tissues is classified as metastatic (disturbance of calcium or phosphorus metabolism leading to ectopic calcification in primarily normal tissue), calcinosis (deposition of calcium in soft tissues in the presence of normal calcium metabolism), or dystrophic (calcium deposition in damaged tissues without generalized metabolic derangement). Ossification of soft tissues is usually due to myositis ossificans or tumoral ossification of soft tissues.




Tables 7.1–6 present the differential diagnosis of calcification or ossification of joints and soft tissues of the extremities.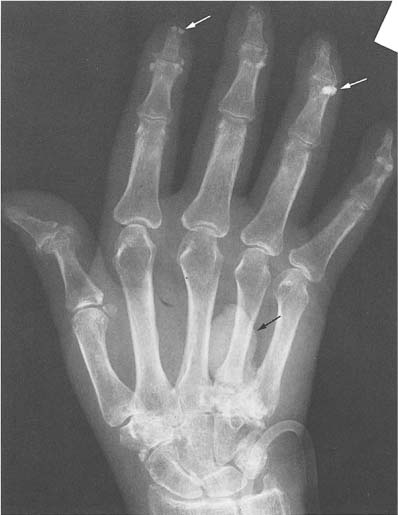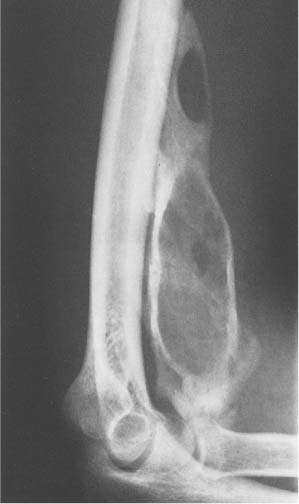 | | |
| --- | --- |
| Associated Disorders | Common Locations and Remark |
| Degenerative joint disease with detached spur. | Knee and other large joints. May resemble synovial osteochondromatosis, but usually contains one or few calcifications. |
| Fracture with avulsed fragment in joint (bone, articular cartilage meniscus). | Occurs especially in avulsed medial epicondyle of pediatric elbow. Cartilaginous fragments may or may not calcify. |
| Osteochondrosis dissecans (Fig. 7.5) | Knee, elbow, hip, shoulder, ankle; similar to synovial osteochondromatosis, but only one or few calcifications. A residual pit in the articular surface. |
| Synovial osteochondromatosis (Fig. 7.3) | Knee, hip, elbow, shoulder. Multiple small calcified or ossified densities within the joint capsule. Some of the synovial chondromas remain uncalcified and are not detected on plain films. |
| | Knee, hip, ankle, shoulder. Disintegration of joint surfaces, sclerosis and malalignment. May occur in diabetes, syringomyelia, syphilis and leprosy |
| Intra-articular tumor calcification (synovial sarcoma, intra-capsular chondroma). | Knee. Associated with a soft-tissue mass. A tumor may simulate a loose body. |
| Sequestrum from tuberculous or pyogenic arthritis. | Rare. Associated with arthritis or postarthritic deformity |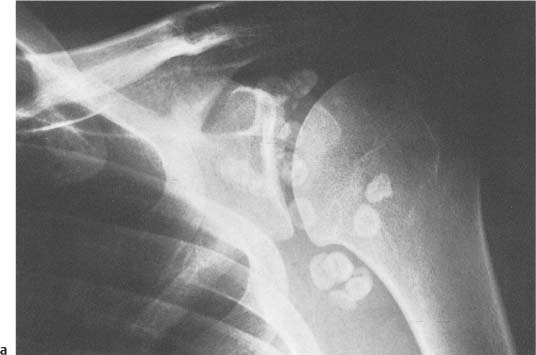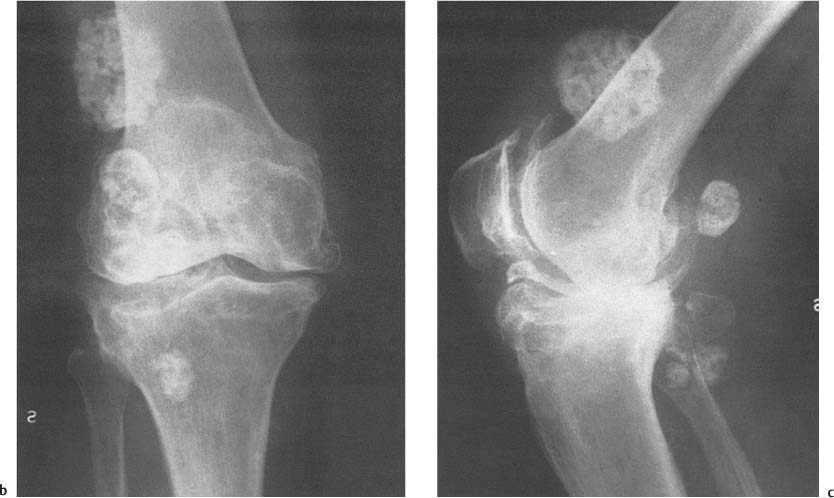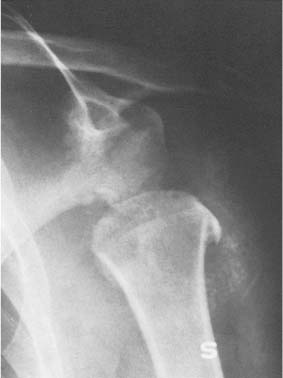 | | |
| --- | --- |
| Associated Disorders | Common Locations and Remark |
| Calcium pyrophosphate dihydrate (CPPD deposition disease) "Pseudogout" (Figs. 7.6 and 7.7). | Knees, wrists, hips. May be associated with various degrees of secondary osteoarthritis. |
| Idiopathic primary osteoarthritis trauma | Calcification of cartilage without crystal arthropathy. |
| Secondary osteoarthritis. | Premature osteoarthritis with chondrocalcinosis. |
| Hyperparathyroidism renal osteodystrophy | Wrists, knees, hips, shoulders, elbows. Seen also in oxalosis with secondary renal failure. |
| Gout | Knee. Chondrocalcinosis is a secondary manifestation. |
| Ochronosis (alkaptonuria) | Menisci, intervertebral disks. Intervertebral disk calcification is also seen in hypervitaminosis D, hypophosphatasia, ankylosing spondylitis, spondylosis and disk degeneration |
| Acromegaly (Fig. 7.8) | Knee. Cartilage proliferation widens joint spaces. Calcification may happen. |
| Hemochromatosis | Autosomal recessive hereditary disorder in which iron accumulation causes the diseace. 20–60% of patients may have chondrocalcinosis. Calcification may be similar to CPPD. |
| Wilson's disease | Rare autosomal recessive disorder characterized by copper accumulation. Affects particularly basal ganglia and liver. In skeletal system it causes osteopenia, subchondral bone fragmentation and chondrocalcinosis. |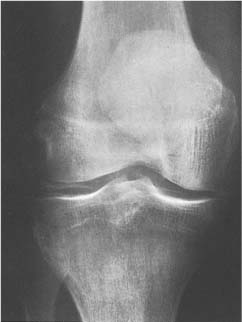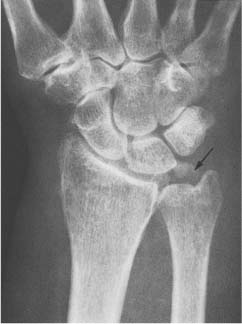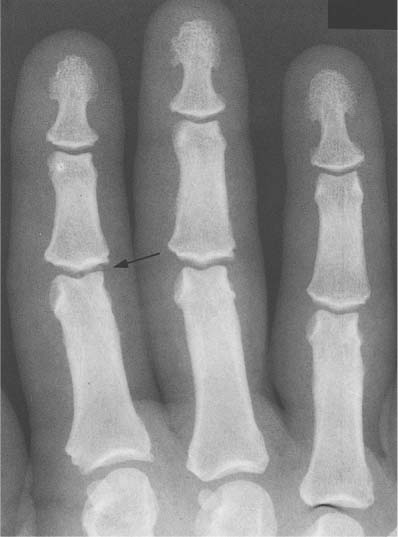 Associated Disorders






Common Locations and Remark







Hyperparathyroidism (Fig. 7.9) Renal osteodystrophy






Associated with other radiographic signs of hyperparathyroidism.







Other disorders of calcium and phosphate metabolism (hypoparathyroidism, chronic hemo dialysis, widespread bone destruction, vitamin D intoxication, milk-alkali syndrome, etc.)






Ligamentous subcutaneous and intracranial calcifications sometimes occur. Not seen in postsurgical hypoparathyroidism.







Scleroderma (Fig. 7.10)






Most common in hands. Association of generalized calcinosis of the skin with scleroderma is called Thibierge-Weissenbach syndrome

Full access? Get Clinical Tree

Get Clinical Tree app for offline access