Fig. 12.1
Extreme mountain biking can be performed at incredible places, especially in mountainous areas (Photo courtesy of Manfred Stromberger)
The idea of practicing mountain biking during the summer season in areas with sufficient undulating landscapes with favorable trail conditions seemed to be a natural progression. However, going up- and downhill in some matter may not be enough. It is in our nature to develop and adapt competences. Making use of the same principle of transforming strength and energy into a propelling force, downhill mountain bikers are able to reach high velocities (Fig.
12.2
). Freeriders or dirt jumpers perform spectacular jumps combined with BMX style tricks due to the vertical lift created by artificial or natural redoubts (Fig.
12.3
).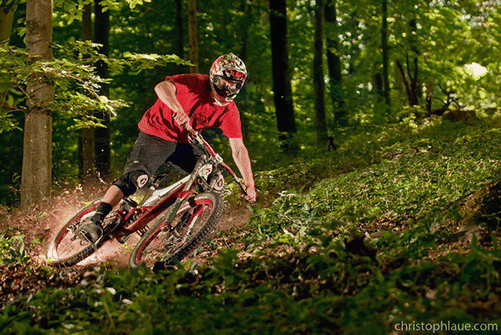 Fig. 12.2
A compact and low frame with a low bottom-bracket height gives the downhill biker the best possible traction and an easy handling while riding at high velocities (Photo courtesy of Felix Weilbach)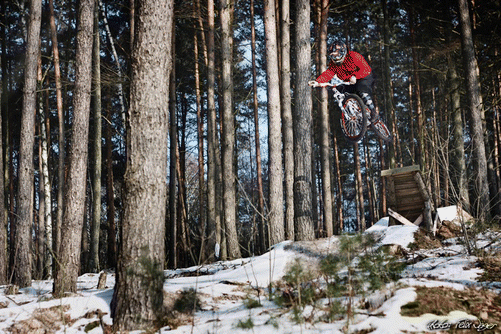 Fig. 12.3
High velocity enables the athlete performing breath-taking jumps and tricks (Photo courtesy of Felix Jäger)
So far many subdisciplines with varying technical features have been introduced. Basically they differ according to meet their sporty demands. Nevertheless the frame's center of gravity or weight stays in focus. In the following section, each subdiscipline and its equipment are going to be introduced.
12.2

Mountain Biking
12.2.1

Disciplines
12.2.1.1

Cross-Country (XC)

Cross-country (XC) is one of the most popular mountain bike disciplines, and nowadays it is already an official Olympic discipline. Compared to a Formula 1 race in cross-country (XC), a round course is established which has to be completed multiple times by the athletes. The race is over either when a certain number of rounds are completed or when a certain time interval expired. The racetrack is usually between 3 and 9 km long and has to include the following terrain features:





Amount of brick floors or asphalted streets less than 15 %






Forest and country tracks






Meadow trails






Multiple gradients and descents
12.2.1.2

Downhill Mountain Biking (DMB)

Downhill mountain biking (DMB) is the general sense of to racing-oriented downhill riding. This sport is performed in the summer all over the world, especially in mountainous areas. It involves high velocities that runs up to 70 km/h, bolds maneuvers, turns, and jumps. In combination with hard and rocky underground spiked with natural or wooden obstacles, the difficulty consists of finding the best line between the highest speed and lowest danger of accident.
12.2.1.3

Freeride (FR)

Freeride (FR) includes elements from DMB however without fenced-off racing tracks and race clock. It is a "do anything" sports category of mountain biking. It combines breath-taking stunts with BMX style tricks and riding trails. The athletes require more technical skills and body control than XC athletes. "Big mountain freeride" is another and much more extremer style than FR. This sport was shaped through the biggest drops and most dangerous runs on off-road terrain with often 40° of slope. Events such as Red Bull Rampage in Utah, USA, made this style of FR very popular.
12.2.1.4

All-Mountain/Enduro (AM)

The all-mountain (AM) category resembles the traditional mountain biking the most. All athletes have to overcome a track with climbs and descents on a variety of terrain in the shortest time as possible. While traditionally called all-mountain riding, this style has been adopted to the Enduro World Series. There are three types of Enduro riding. The first is "Big Mountain" Enduro and very similar to DMB but much longer. A defined and timed course with incorporated climbing sections has to been overcome and sometimes it takes the whole day to complete the course. The second "Gravity" Enduro style has the same amount of climbing and downhill sections, but the climbing sections are not timed. However, there is a maximum of time in which an athlete has to reach the top of the climb. The third "Super D" Enduro style is similar to XC race with climbs followed by descent sections on a defined track.
12.2.1.5

Four-Cross/Dual Slalom (4X)

In both sports the athletes compete in slaloms either in short slalom tracks as in four-cross (4X) or on separated tracks as in dual slaloms against other athletes.
12.2.1.6

Dirt Jumping (DJ)

As its name implies, the idea behind this sport is to ride the bike over a shaped hill of soil or mud and to become airborne after riding over the "takeoff" and to perform rotations and tricks while aiming a clean "landing."
12.2.2

Equipment

To practice each subtype of EMB, basic and individual equipment is needed and has to be adjusted according to the athlete's weight, skill level, and different track and weather conditions.
12.2.2.1

Bike Technique

Typical characteristics of a mountain bike are wide tires with 559 mm rim diameter. Derailleur gears are also typical with 21–30 gears being frequently employed. Common translations are 44/32/22 in the front with triple chainrings and 11–32, 34, or 36 at the rear with eight, nine, or ten sprockets. In downhill and dirt bikes, only one chainring with chain guide is used.

Mountain bikes have a relatively small frame with steeply sloping top tube. Usually large pipe diameters are used especially in aluminum frames. Aluminum was the material of choice used to build frames, but increasingly carbon fiber reinforced plastics are employed. They are much lighter but also vulnerable to breach. Already a stone impact or scratches can damage fibers and weaken the structure of the frame after a fall. Frames made of titanium are also an alternative option. They are particularly comfortable and corrosion safe but also very expensive. Mountain bikes with frames made of steel or titanium are found almost exclusively in the high-price sector.

Cantilever brakes (V-brakes and hydraulic rim brakes) were frequently installed on mountain bike frames. Today's bikes are often equipped with disk brakes. Shock-absorbing forks are now standard equipment as well. In addition to the shock-absorbing front fork, rear suspension in mountain bikes is also increasingly used. In contrast to full suspension bikes ("fully"), bikes with rigid rear are called hardtail.
12.2.2.2

Suspension Systems

At the beginning of this sport, suspension systems were based on elastomers. Later on, they were replaced by steel suspension and air suspension. Steel suspension systems are usually preferred in downhill bikes in which the material is exposed to high-energy loaded forces and the need of high reliability is required. Air suspensions are primarily used in cross-country bikes due to the importance of the bicycle's weight.
12.2.2.3

Front Suspension

The so-called forks are the suspension of the front wheel basically consisting of two tubes on each side in which one contains the suspension and the other one the dumping. Oil can usually be found as damping medium in suspension forks and air or steel as spring. Forks with air spring have the advantage that they are usually mild and the spring hardness can be adjusted via a valve. The steel spring has a linear force-way curve and responds more easily because it has less friction. There are numerous suspension fork systems that can be manually adjusted.
12.2.2.4

Wire Tires

This type of tire is the most prevalent tire used in bike sports. At the bottom of the tire flank, a solid core is incorporated, which forms a ridge with the surrounding material. Different types of wire tires exist and, for example, tubeless tires are widely used in downhill mountain biking. The advantage is the ability to drive it at low pressure without the risk of damage to the tube.
12.2.2.5

Tube Tires

In tube tires the outer tire is sewn together building a closed shell in which the tube lies inside. The advantage of this design is the low weight and usually a very low rolling resistance. Broken tires can be fixed by replacing the tube, but the costs are high and therefore they are only used in professional sports.
12.2.2.6

Solid Rubber Tires

Solid rubber tires are mounted on same rims as wire tires. Their advantage is the high puncture resistance, and their disadvantage is their high rolling resistance and extreme weight.
12.2.2.7

Air Pressure

The optimum air pressure in tires depends on different aspects but also by the personal taste: In mountain bikes, downhill or cross-country bike traction and suspension have priority. The pressure in all terrain is between 1.8–2.5 and 2–4 bars for tubeless tires and 7–13 bars for tube tires. Each athlete adjusts the pressure depending on the ground and his weight.The individual setting has advantages and disadvantages such as lower pressure for higher traction in rough terrain but less stability in curves and higher pressure for less rolling resistance on asphalted streets. In combination with every bike system, every rider can set the suspension individually dependent on route conditions and athlete's weight including pitch of spring, compression, and rebound damping.
12.2.3

Subdiscipline-Specific Equipment
12.2.3.1

All-Mountain (AM)

The advantage of fully suspended AM bikes is the range of application from simple tours on plain landscapes up to alpine crossing tracks. More focus lies on reliability, comfort, and reserves in range of spring and less on the weight. The seating position is less stretched than a cross-country bike but still not as upright as compared to an Enduro bike.

The variability and the adjustment possibilities are essential for an AM bike. The range of spring is 120–160 mm. In some systems it can be entirely blocked for better uphill riding. On the other hand, some AM bikes offer the adjustment of the rear shock system. The weight starts at about 10 kg and goes up to 14 kg depending on the model. Wider and more profiled tires are used in AM compared to cross-country. AM bikes need to meet different requirements during the course of a race.
12.2.3.2

Downhill Mountain Biking (DMB)

Downhill bike frames mostly weight between 15 and 20 kg and are much heavier compared to all-mountain or cross-country bikes. Depending on the height of the athletes, different frame sizes are used ranging from extra small to extra large. The main keys and differences to other bikes are the center of gravity and front and rear suspension. Their construction allows the absorption of the bumpiness of the area leading to independence of driving and brake forces. The wheels have reinforced rims and spokes, four flask brakes, and a lower bottom-bracket height (ground to bottom-bracket height, 355 mm). The special construction of such downhill bikes with low frame, high suspension, and wide wheels offers easy handling and high traction (Fig.

12.4

).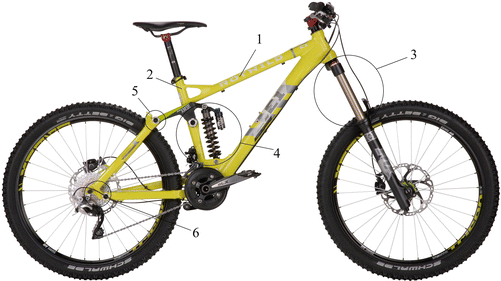 Fig. 12.4
1
top tube (length, 560–620 mm);
2
seat tube (430–480 mm);
3
front suspension;
4
rear suspension;
5
upper linkages consisting of two wheel articulations which act in one axis;
6
regarding the suspension centers of rotation on each side absorb the bumpiness of the area additionally
12.2.3.3

Cross-Country (XC)

Compared to DMB bikes, XC bikes are rather designed for unpaved roads than for heavy terrain. Both hardtail and full suspension bikes exist. Due to cost, durability, and weight, many drivers prefer hardtail bikes. Bike weights below 8 kg are achievable but costly. Their range of spring is between 80 and 100 mm and disk brakes are the state of the art.
12.2.3.4

Enduro

Enduro bikes have full suspension systems and in comparison to XC and mountain bikes, their range of spring is between 150 and 180 mm. Due to their different frame geometry, their weight lies between 12 and 16 kg and fitted with an adjustable landing gear, broader and more profiled tires. The handlebar is often cranked and the position is upright. The difference to FR bikes is that Enduros are much more crossing tour suitable. The large range of spring provides enough cushion in downhill parts or in drops and jumps – with lowered fork the Enduro is pleasant to ride uphill.
12.2.3.5

Freeride (FR)

FR bikes are very similar to DMB bikes – designed for use in heavy, steep terrain and fully suspended with a long range of spring from 150 to 200 mm. In contrast to the DMB, they are designed not only to departures. Due to modern suspension systems, it is possible with such heavy 20 kg bikes to go uphill as well. They prevent seesawing during pedaling and climbing sections are possible to attack.