Searches
Methods
Results
1
Exp Synostosis/or radio-ulnar synostosis.mp.
7976
2
Congenital.mp. or exp Congenital Abnormalities/
583,195
3
Exp Radius/or radius.mp.
34,880
4
Exp Ulna/or ulna.mp.
9703
5
3 or 4
38,991
6
1 and 2 and 5
403
7
Limit 6 to English language
283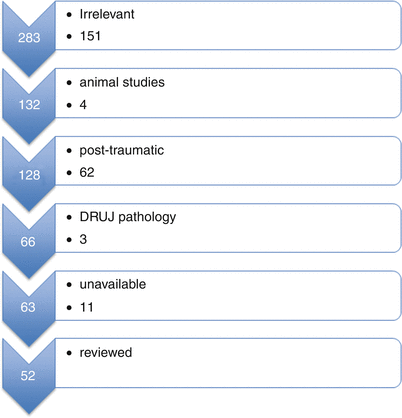 Fig. 34.1
Flow chart of search methodology
What Are the Causes and Natural Progression of Disease?
What Is the Evidence Behind the Current Treatment Options?
As mentioned before, patients can compensate remarkably well despite deformity and reduction in forearm rotation which explained why the condition remain under diagnosed. Hence, in majority of patients CRUS can be treated non surgically especially if the arm is in a neutral position and there is a reasonable degree of compensatory wrist rotation.