Diseases of the Hematopoietic System
Michael T. Busch
Amy L. Dunn
Diseases of the hematopoietic system can profoundly affect musculoskeletal form and function. The hematopoietic system consists of the cellular elements in circulating blood, bone marrow, spleen, lymph nodes, and the reticuloendothelial system. This chapter discusses the diseases of the hematopoietic system that have musculoskeletal features that a pediatric orthopaedist would be expected to diagnose and treat. Such diseases can be divided into (a) disorders of the bone marrow, where most of the cells of this system are produced; (b) disorders of erythrocytes/hemoglobin, predominantly involving abnormalities in hemoglobin synthesis or erythrocyte production; (c) disorders of neutrophils and lymphocytes, with accompanying immune deficiencies; (d) disorders of monocytes and macrophages, with abnormalities of metabolism and proliferation; (e) disorders of hemostasis, causing abnormal bleeding or thrombosis; and (f) hematologic malignancies. The orthopaedic evaluation and management are discussed for each disorder, along with recent advances in pathophysiology, molecular genetics, treatment, and prognosis.
BONE MARROW FAILURE DISORDERS
The cellular elements of the hematopoietic system are produced in the bone marrow. Bone marrow failure is characterized by deficient production of one or more cell lines in the bone marrow. Disorders characterized by bone marrow failure can cause anemia, thrombocytopenia, leukopenia, or pancytopenia, depending on which hematopoietic precursors are affected and at what stage of stem cell differentiation the abnormality occurs. There are many bone marrow failure disorders with musculoskeletal manifestations, the most common of which include Fanconi anemia (FA), thrombocytopenia with absent radius (TAR) syndrome, Diamond-Blackfan anemia (DBA), Schwachman-Diamond syndrome (SDS), and cartilage-hair hypoplasia (CHH). The orthopaedist should be familiar with these disorders, because the musculoskeletal manifestations that can cause significant functional disabilities and cosmetic problems may be their first clinically apparent signs.
DISORDERS OF HEMOGLOBIN
Erythrocytes in circulating blood carry oxygen to tissues. Hemoglobin carries the oxygen in erythrocytes. Mutations in the genes that encode for protein synthesis can cause abnormal hemoglobin molecules that affect the form and function of erythrocytes. Iron deficiency and chronic inflammation can also diminish production of hemoglobin, resulting in anemia. Disorders in number, form, or function of erythrocytes can cause significant musculoskeletal pathology, and can complicate the treatment of other musculoskeletal conditions.
Sickle Cell Disease.
The clinical response is important for differentiating between painful crisis and osteomyelitis in patients with SCD. In a painful crisis, symptoms should abate within 24 to 48 hours with hydration and analgesics. If the patient fails to improve, MRI is typically the next step. MRI evidence of intraosseous, subperiosteal, or soft-tissue fluid collection warrants aspiration or surgical drainage.
Many other organ systems are affected by SCD. Anemia in SCD is related to erythrocyte fragility and hemolysis. The chronic baseline anemia is generally mild and well tolerated in childhood. However, anemia can be worsened acutely by splenic sequestration, a sudden increase in splenic hemolysis that can be fatal, and by aplastic anemia, a temporary marrow suppression often triggered by parvovirus B19 infection.
Thalassemia.
The thalassemias are a heterogeneous group of autosomal recessive inherited disorders of hemoglobin synthesis. Together, they represent the most common inherited diseases worldwide (
86
). The diseases and their treatments can cause an array of alterations in skeletal dynamics that the orthopaedist should be able to recognize.
The many kinds of mutations that are responsible for thalassemia cause deficient or nil production of either α- or β-globin chains. Alpha thalassemia results from mutations in one or more of the four copies of the α-globin gene. One mutation results in a silent carrier state. Mutation of two genes causes a thalassemia trait, characterized by mild normocytic or microcytic anemia. Mutation of three genes causes substantially diminished α-globin production and hemoglobin H disease (named for the stable tetramer formed by the remaining β chains) with moderate hemolytic anemia. Mutation of all four α-globin genes causes hydrops fetalis, which is usually fatal
in utero.
Beta thalassemia results from mutations in the β-globin gene and is classified as (a)
β+
thalassemia, with reduced synthesis of β-globin or (b) β
0
thalassemia, with absent β-globin synthesis. An alternate classification of thalassemia is based entirely on clinical severity.
Thalassemia major
refers to severe disease,
thalassemia intermedia
refers to moderate disease, and
thalassemia minor
refers to mild disease.
Among the α thalassemias, hemoglobin H disease is the most often seen clinically. Children generally present with moderately severe anemia, splenomegaly, and cholelithiasis, which may occur in response to oxidative stress caused by infections, fever, or certain medications (
87
). Patients with thalassemia major (homozygous β thalassemia) develop severe anemia, with hemoglobin in the 3 to 4 g/dL range within the first 6 months of life, as fetal hemoglobin production wanes. Thalassemia major requires frequent transfusions in order to maintain health and prolong life expectancy beyond 5 years of age. Transfusions are generally started when the anemia becomes clinically detrimental and are aimed at keeping hemoglobin levels more than 9.5 to 10.5 g/dL. Thalassemia intermedia typically presents in the second year of life with a less profound anemia (
86
).
The skeletal manifestations of the thalassemias, which may occur as a result of both the anemia and its treatments, include marrow hyperplasia, short stature, skeletal dysplasia, and osteopenia. Without transfusions to correct the severe anemia in thalassemia major, erythropoietin secretion increases. The resulting marrow hyperplasia causes widening of the medullary cavities and thinning of the cortices of long bones (
Fig. 10-4
). This process is initially apparent in the hands and feet, where the tubular bones become rectangular and then convex. Premature closure of physes, especially in the proximal humerus, can also occur (
88
). Marrow hyperplasia can cause dramatic expansion of calvarial bones (
89
). Marrow hyperplasia in the spine is associated with back pain in adults with thalassemia who started transfusions after 3 years of age (
90
). Extramedullary hematopoiesis commonly occurs in the liver, spleen, and chest. Extramedullary hematopoiesis in the paravertebral space can cause spinal cord compression (
91
,
92
,
93
and
94
). MRI is helpful in detecting and evaluating this process in the spine. Surgical decompression, radiation therapy, and transfusions are treatment options. Marrow hyperplasia from severe anemia is not often seen today, because of the use of maintenance transfusions.
Growth disturbance can result from the effects of transfusion-induced iron overload on the anterior pituitary gland and hypothalamus. Endocrinopathies resulting from iron overload include decreased growth hormone (GH) release or GH resistance (
95
), delayed puberty and hypogonadism (
96
), and hypoparathyroidism. In one series of transfusion-dependent patients with thalassemia major (
97
), 8% of boys aged 7 to 8 years had short stature (less than third percentile), as well as 12% and 15% of older boys and girls, respectively. The short stature tends to be disproportionate, with a relatively short trunk (
98
). The correction of GH deficiency and the
induction of puberty with gonadotropins partially correct this growth disturbance (
96
,
98
).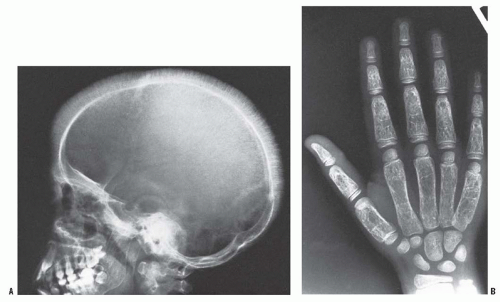 FIGURE 10-4. A:
Lateral radiograph of the skull in a 11-year-old boy with thalassemia major. Note radial striations in the calvarium.
B:
Radiograph of the hand of the same patient. Note widened marrow cavities, thinned cortices, and osteoporosis.
The skeletal dysplasia of thalassemia is related to iron chelation treatment. Iron chelation with desferrioxamine or oral deferasirox to prevent iron overload has dramatically impacted the health status of patients who require transfusions for thalassemia major (
99
,
100
and
101
). Desferrioxamine, although essential in prolonging survival among transfusion-dependent patients, causes significant skeletal dysplasia in approximately 50% of cases (
102
). The findings include a slowing of spinal growth, biconcave vertebrae that progress to platyspondyly in some cases, and physeal widening at the wrist and knee that, in some patients, were severe enough to resemble rickets. Biopsies from patients with desferrioxamine-induced dysplasia show reduced and irregular bone mineralization as well as significant alterations in cartilage histology (
103
,
104
). The spinal deformities are typically progressive, but metaphyseal lesions may heal with reduction of the desferrioxamine dose or following a switch to other iron chelators (
105
,
106
). Skeletal dysplasias have not been reported with the newer oral iron chelator deferasirox (
99
,
107
).
Osteopenia is a major skeletal manifestation of thalassemia major, occurring in more than 90% of patients despite optimal transfusion and chelation (
108
). Bone mineral density is lower in patients who have delayed puberty or amenorrhea (
109
,
110
), indicating a possible role for endocrinopathy in the pathogenesis of osteopenia. Decreased bone density in patients with thalassemia is predominantly trabecular and associated with iron deposition (
111
). Consistent biochemical alterations in bone turnover have not been found (
112
). In patients with impaired sexual maturation, bone mineral density increases in response to hormone replacement therapy (
113
). In GH-deficient patients, GH administration can normalize markers of bone turnover but does not increase bone density (
114
). Bisphosphonates were ineffective in increasing bone mineral density in two placebo-controlled trials (
115
,
116
).
Fractures are common in patients with thalassemia major, although they occur less often since the widespread use of young-onset transfusions began. The 40% to 50% incidence of fractures reported in some early series (
117
,
118
and
119
) has decreased to 13% to 21% in recent series (
120
,
121
and
122
). However, a multicenter review (
121
) found fractures to be often multiple or recurrent. The orthopaedist treating a fracture in a child with thalassemia should consider the problems of multiple fractures, weakened bone, high refracture risk, and clinically significant anemia.
The problems associated with transfusions and chelation have led to a search for alternative medical treatments for the thalassemias. Hydroxyurea, which stimulates hemoglobin F production, may prove effective (
123
), although at the time of writing this chapter, it has not been approved by the U.S. FDA for children with thalassemia. Bone marrow transplantation
has been used successfully in several centers for the treatment of severe thalassemia (
124
,
125
and
126
), but it has not been shown to prevent osteopenia (
109
). Stem cell transplantation from umbilical cord blood of related donors has also been used with some success (
127
). Despite success in a mouse model (
128
), gene therapy for thalassemia is not yet a clinical reality.
DISORDERS OF NEUTROPHILS AND LYMPHOCYTES
The major cellular components of the immune system include neutrophils, lymphocytes, monocytes, and macrophages. Neutrophils serve as a first line of defense against bacterial and fungal diseases. Neutrophils circulate in the peripheral blood and, through a complex chemotactic process, migrate to sites of infection where they recognize, phagocytose, and kill pathogenic microorganisms. Lymphocytes are classified as B cells derived from bone marrow and T cells derived from the thymus. B cells control humoral immunity and T cells control cellular immunity. The complex interaction of the cells of the immune system is mediated largely through cytokines, and a discussion of this process is beyond the scope of this chapter. This section will discuss disorders of neutrophils [chronic granulomatous disease (CGD)], B cells [X-linked agammaglobulinemia (XLA)], and T cells (acquired immunodeficiency syndrome) that are relevant to the pediatric orthopaedist.
Chronic Granulomatous Disease.
CGD commonly causes recurrent, deep, bacterial or fungal infections of the musculoskeletal system, including osteomyelitis. Therefore, despite being a rare disease, CGD should enter the orthopaedist's mind in the setting of atypical, unusually severe, or difficult-to-treat infections.
The treatment of established infections should be aggressive, with early surgical debridement and liberal use of antibiotics. Accurate cultures are essential, because pathogens uncommonly encountered in the general pediatric population are common causes of infection in patients with CGD. The possibility of fungal infection should always be specifically investigated with fungal smears and cultures.
X-Linked Agammaglobulinemia.
DISORDERS OF THE MONOCYTE-MACROPHAGE SYSTEM
The monocyte-macrophage system is a group of cell types derived from a common bone marrow precursor that provides important immune functions in various parts of the body. Macrophages ingest cellular debris, pathogens, and foreign bodies, and are particularly abundant in the spleen, liver, lymph nodes, lungs, and bone. Osteoclasts are a specialized form of macrophage, derived from the same precursor. Dendritic cells are nonphagocytic antigen-presenting cells that are thought to arise from the monocyte-macrophage stem cell. A wide variety of diseases affect the monocyte-macrophage system. Two diseases with musculoskeletal manifestations discussed in this chapter are Gaucher disease, which is a lysosomal storage disease, and Langerhans cell histiocytosis (LCH), which is a dendritic cell proliferative disorder.
Gaucher Disease.
Lysosomal storage disorders involve deficiencies of catabolic enzymes that allow toxic accumulation of metabolic pathway products. A variety of enzyme deficiencies lead to a variety of diseases with different manifestations. The most common lysosomal storage disease is Gaucher disease, and this example will be discussed in detail in this chapter. Gaucher disease has significant skeletal manifestations, and can require orthopaedic attention for bone pain, osteomyelitis, osteopenia, pathologic fractures, and ON.