Bone and Soft Tissue Tumors

The musculoskeletal system is affected by a variety of (benign and malignant) tumors and tumor-like conditions that involve bones, joints, muscles, soft tissues, and peripheral nerves. Tumor-like conditions may be related to traumatic, infectious, arthritic, or developmental etiologies that lead to the development of soft tissue or bony mass-like lesions, which mimic neoplasia. Systematic assessment of the above lesions, correlation with plain films, and description in a structured reporting format are very useful to arrive at a definitive diagnosis (or the most relevant differential diagnosis), and to decide upon further management, including biopsy, surgery, and follow-up strategies. For appropriate imaging analysis and structured reporting, the lesions can be separately described using different templates for bone tumors and soft tissue tumors, depending upon the predominant respective tissue involvement and epicenter of the lesions. The checklist for structured reporting is outlined in Appendices 1–4 with samples of normal templates and abnormal (positive) reports. Conceptual details of related MR physics and imaging protocol are discussed in the chapter on MR protocol optimization.
IMAGE EVALUATION
The below-outlined stepwise interpretation approach is only a practical guide, and all bone and soft tissue structures should be evaluated in multiple planes for their optimal assessment. The following discussion will help reader perceive which lesion characteristics are best depicted/evaluated in which particular plane.
1. The traditional tumor MR imaging protocols include one or two long-axis T1-weighted (T1W) images and three plane fluid-sensitive fat-suppressed T2-weighted (fsT2W) or short-tau inversion recovery (STIR) images. Most examinations include pre- and post-contrast evaluation in multiple planes or isotropic three-dimensional (3D) T1-weighted (T1W) gradient-echo images, which can be reconstructed in multiple planes. Recently, many tertiary care centers have incorporated diffusion-weighted (DW) and chemical shift (CS) imaging to evaluate the amount of diffusion restriction (e.g., cellularity by measuring apparent diffusion coefficient [ADC] value) and the presence of microscopic intralesional fat (benignity suggested by >20% relative loss of signal in bony lesions on out-of-phase imaging), respectively. MR angiography can be added in the protocol to assess the vascularity (vascular involvement, enhancement pattern) of neoplasms. The modality is particularly used in the preoperative imaging of sarcomas.
2. If available, plain film, US and/or CT findings should be correlated with MR features (Fig.1). The former modalities can be used for detecting presence of fat, calcification, bony cortex integrity, and periosteal reaction. MR imaging is beneficial for characterization of the bone marrow; however, the MR features of osseous lesions may sometimes confuse the reader, and clearly benign or indolent lesions on radiographs may occasionally appear aggressive on MR images. The diagnosis of bone lesions should be preferably based on radiographs and/or CT whereas MR imaging can be employed for further characterization, and definition of their extent.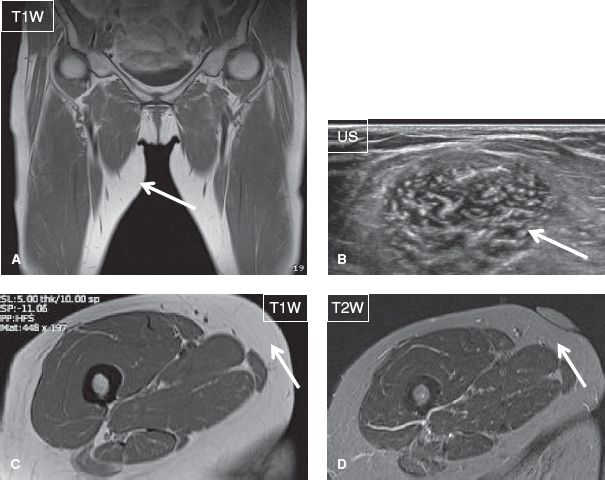 3. On MR imaging, the initial evaluation is performed on long-axis images to grossly assess the presence/absence of the lesion, its size, regional major soft tissue involvement, joint involvement, and presence or absence of skip lesions. Typically, lesions with elongated shape, and associated marked fascial and soft tissue edema, fascial or subperiosteal fluid, and/or sinus tract are infectious in etiology. The neoplasms do not produce much fascial edematous or fluid-like changes unless they are markedly aggressive with extra-compartmental extension. The appearance of the lesion is further characterized on T1W and T2W images to identify the predominant tissue composition, such as fat (T1 and T2 bright), fibrous (T1 and T2 dark), fluid or myxoid (T1 dark and T2 bright), cartilage (T1 intermediate and T2 bright), hemorrhage (T1 bright and T2 mixed), or calcification/osseous component (predominantly T1 and T2 dark ± internal fatty marrow elements).
4. Line up the axial T1W, T2W, pre- and post-contrast T1W (and subtraction, if available) images and synchronize them for tandem evaluation. If 3D (isotropic) T1W or T2W sequences have been obtained, the technologists should create reconstructions in prespecified axial, coronal, and sagittal planes to save reading time. Axial planes are ideal for the following purposes:

Evaluating the internal characteristics of lesions, such as the predominant type of tissue, internal hemorrhage, calcification, fibrosis, necrosis, fluid–fluid levels, myxoid or cystic changes, etc.

Determining the amount of cortical erosion or endosteal scalloping.

Defining the intra- or extracompartmental location and potential intra-articular extension of the lesions.

Assessing the involvement of neurovascular bundles.
5. If CS imaging is available, check for either relative (>20%) signal loss in the bone lesion on out-of-phase images, which would indicate presence of microscopic fat and likely benignity of a marrow lesion; or for relative signal loss on in-phase images in the soft tissue lesions, which signifies presence of hemorrhage, such as in pigmented villonodular synovitis (PVNS). If DW imaging is available, check the ADC values as well as the presence and amount of diffusion restriction. Low ADC values (<1.1× 10−3 mm2/s) are seen with highly cellular, potentially malignant lesions, whereas high ADC values are seen with lower cellularity, probable benign or low-grade lesions. Evaluate CS and DW images in conjunction with the conventional images, e.g., fatty metamorphosis or fibrosis of lesion following successful treatment will also restrict diffusion. Finally, if time-resolved MR angiography has been performed, evaluate the degree increased or decreased regional vascularity, and perfusion of the lesion apart from patency of regional vessels for preoperative mapping. Fast and early uptake and/or wash out of contrast from the lesion indicate an aggressive vascularized lesion, and the potential responsiveness of the latter to radiation treatment. Post-treatment evaluation for residual or recurrent lesion is also better performed using time-resolved MR angiography and pre- as well as post-contrast delayed imaging, as part of the tumor imaging protocol. One would see early blush of nodular contrast enhancement with residual/recurrent disease, while gradual mild diffuse fill-in of contrast would be observed in post-radiation granulation tissue and scar tissue.
6. After filling the structured report, compile the imaging (MR, CT, plain film) findings together to indicate whether the lesion is benign (e.g., ganglion, lipoma, vascular malformation, nonossifying fibroma (NOF), cortical avulsive deformity, and unicameral bone cyst; Figs. 1–6); indeterminate (e.g., solid or centrally enhancing soft tissue lesion, bony lesion with ill-defined margins and/or periostitis; Fig. 7); or clearly malignant, unless proven otherwise (e.g., infiltrative soft tissue mass extending into different compartments, large heterogeneous necrotic mass, and bony lesion with cortical erosion and soft tissue mass; Fig. 8). Table 1 provides useful guides for differentiating between malignant and benign musculoskeletal lesions whereas Table 2 illustrates the differential diagnosis of various benign entities based on their specific tissue characteristics and locations in soft tissues.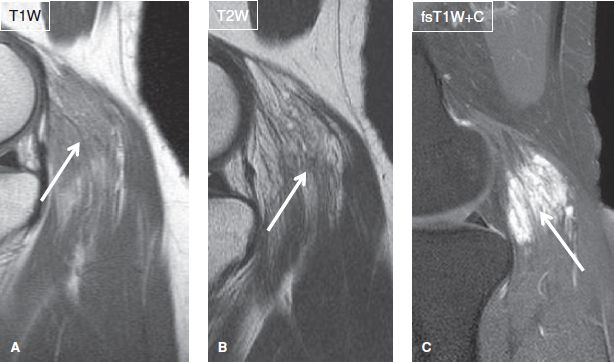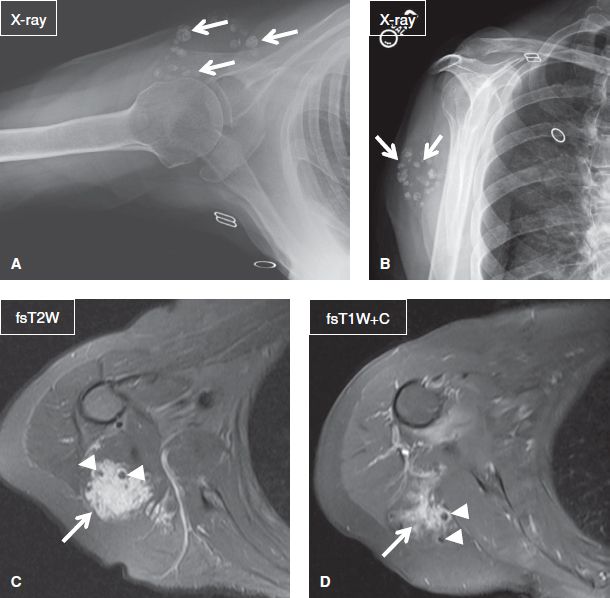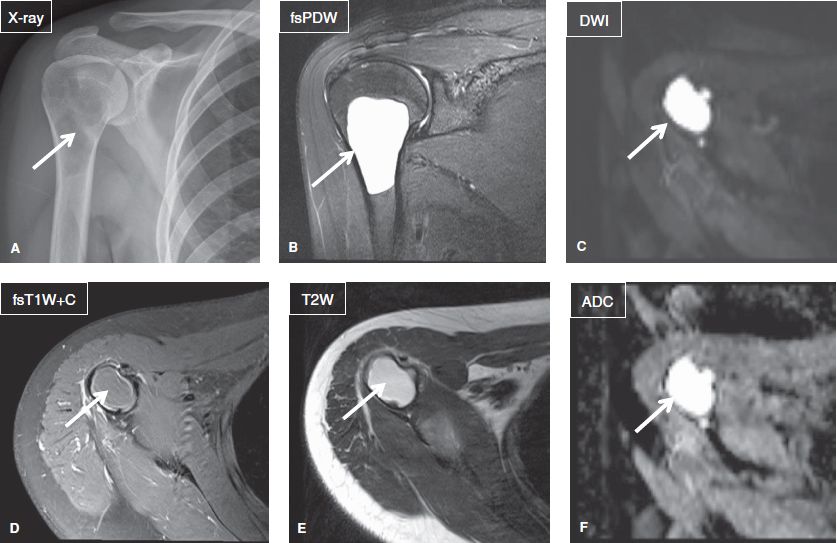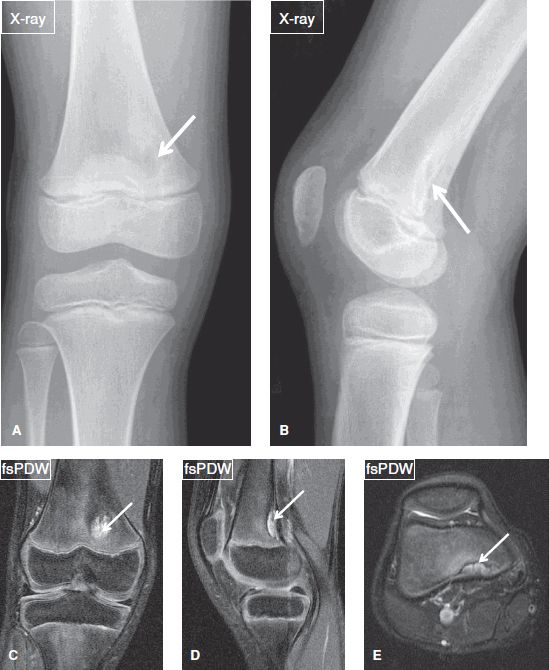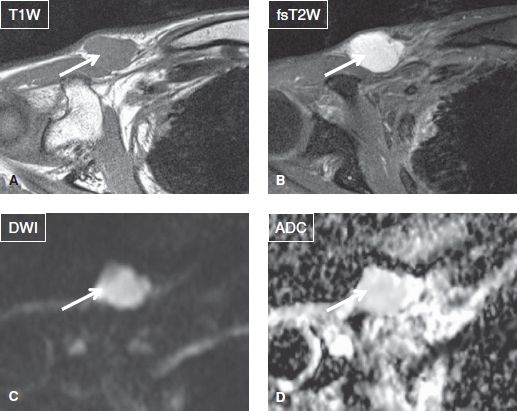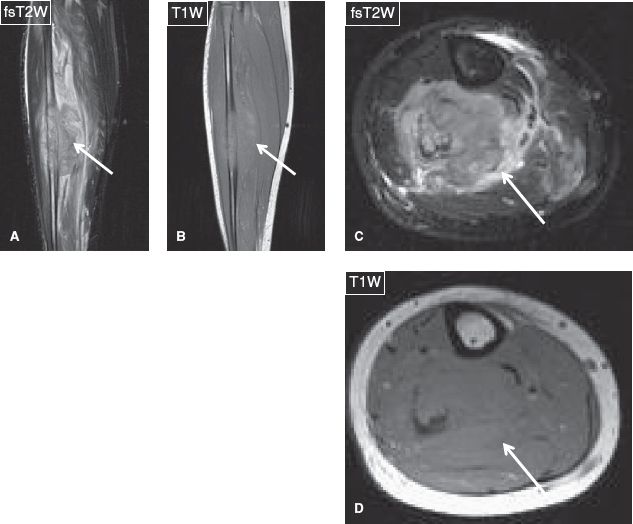 HOW TO FILL THE STRUCTURED REPORT
Markers have been [<placed> <not placed>] at the site of concern.
It is important that the technologist places markers on the painful and/or palpable bony or soft tissue findings. Thereby, if a large area is imaged, it becomes easier for the reader to identify the lesion, even if the latter is subtle or relatively obscure. This is particularly helpful if the lesion merely represents a palpable unencapsulated fat lobule or skin lesion.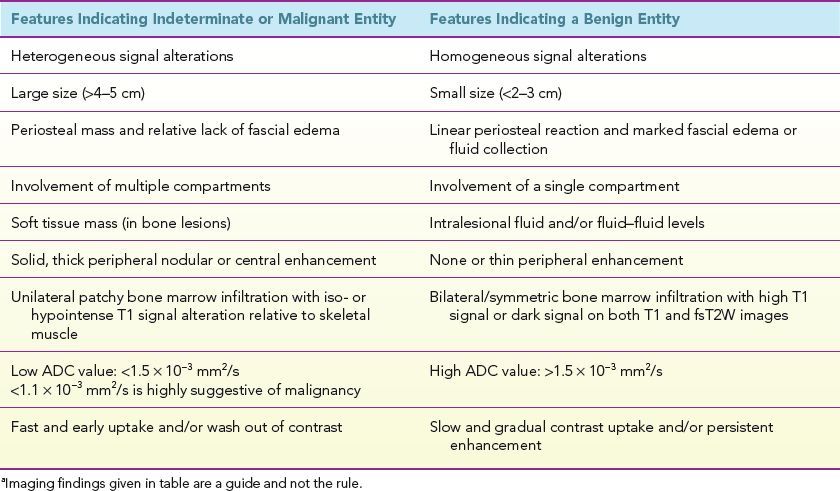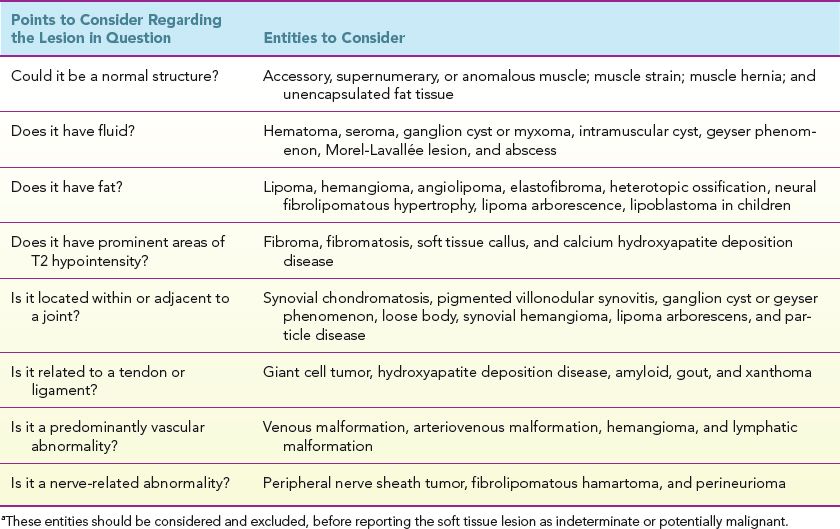 Size: [<>] × [<>] × [<>] cm
Generally, the larger the size of the lesion, the more are the chances that it is ominous or malignant (Fig. 9). A few exceptions to this rule include clear fat-containing lipoma, fibrolipomatous hypertrophy of the nerve, fluid-containing lesions, vascular malformations and fascial fibrous lesions, such as fibromatosis or desmoid (Figs. 10–12). Some benign lesions are associated with elongated bizarre-shaped lesions with or without cortical deformity and thickening, such as in fibrous dysplasia, neurofibromatosis, and Paget disease (Figs. 13–15). The above lesions have other characteristics that aid in the diagnosis such as young age, relative epiphyseal sparing unless associated with McCune Albright syndrome, cortical thickening and remodeling and mixed marrow signal changes and cystic changes with regions of T2 darkening in fibrous dysplasia; cutaneous stigmata, genetic markers, bony pseudoarthrosis, target and tail signs within the tumors and multiple NOFs in neurofibromatosis; predominant cortical/subcortical involvement and thickening with fibrofatty marrow changes, bone expansion and trabecular thickening, and predisposition among elderly Caucasian males in Paget disease.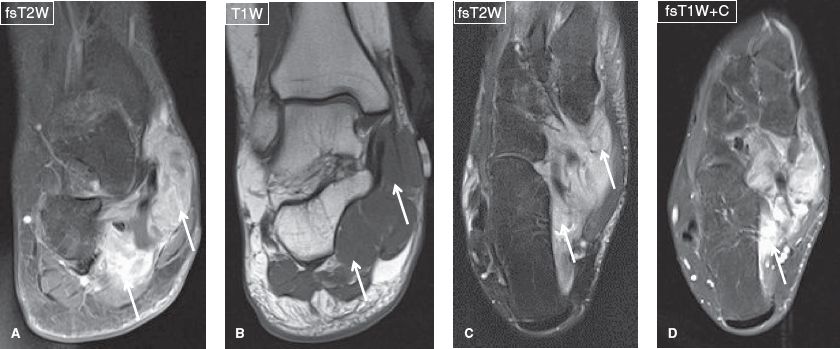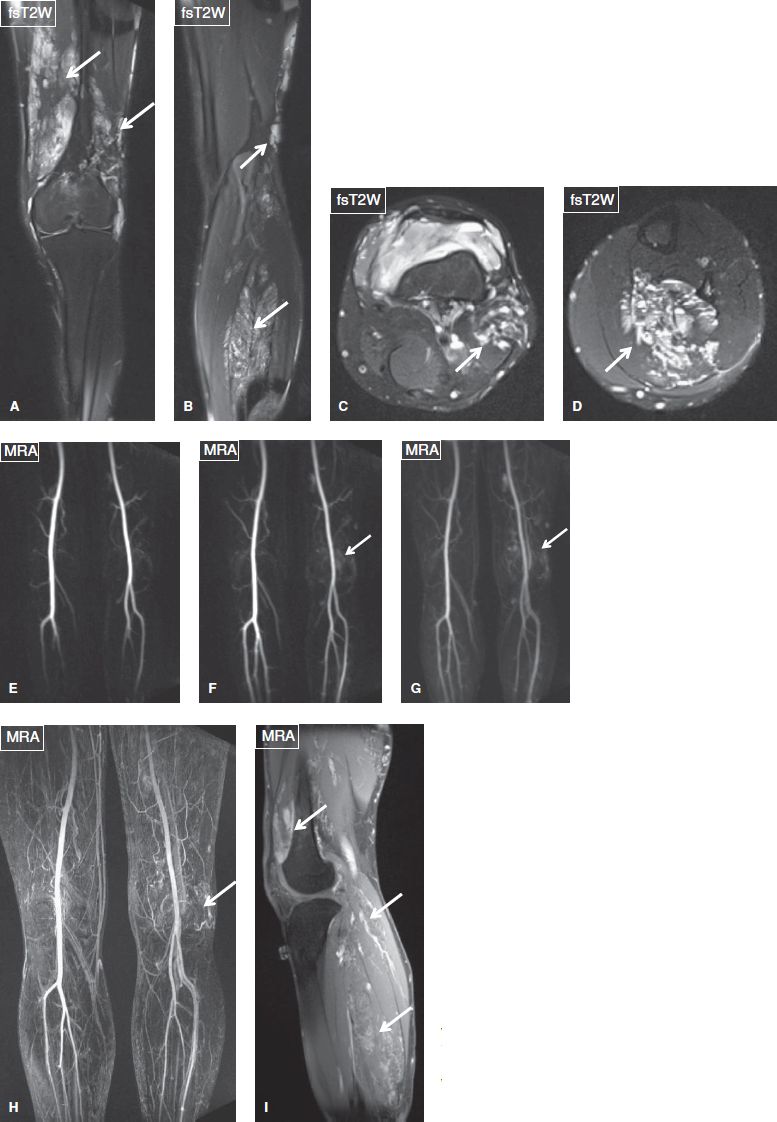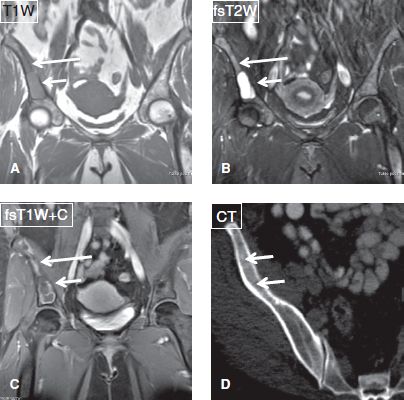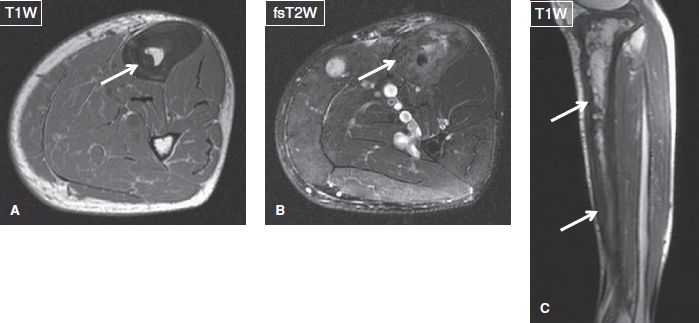 Location: [<>]
Location is very important for both bone and soft tissue lesions (e.g., malignancy almost never occurs within the joints with rare exceptions (Fig. 16), and in nearly all circumstances mass-like intra-articular lesions represent benign synovial processes) (Fig. 17).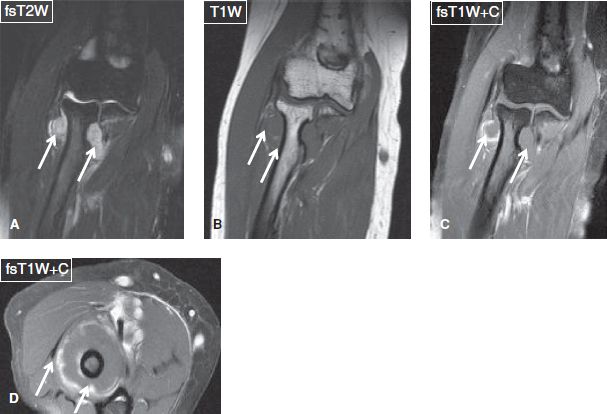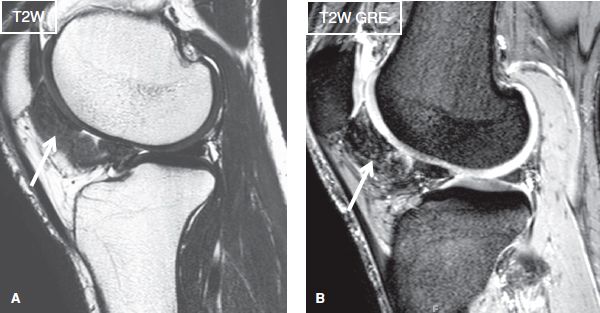 Let's discuss bony lesions first. Since metaphysis is the portion with the richest vascularity in long bones, most tumors start or eventually lodge in this location. Therefore, what could help the reader in the differential diagnosis would be the lesion epicenter preference in other areas. In children, lesions involving the epiphyses (or apophyses) include eosinophilic granuloma, subchondral cyst, and chondroblastoma. In adults, lesions involving the epiphyses include giant cell tumor (GCT, extending from the metaphysis after physeal fusion), clear cell chondrosarcoma, myeloma, metastasis, subchondral cyst (geode), and lipoma (Figs. 18–22). Lesions involving the diaphyses include osteoid osteoma, fibrous dysplasia, enchondroma, Ewing sarcoma, metastasis, myeloma, adamantinoma (in the tibia), lymphoma, and eosinophilic granuloma (mnemonic: O FEMALE) (Figs. 23, 24).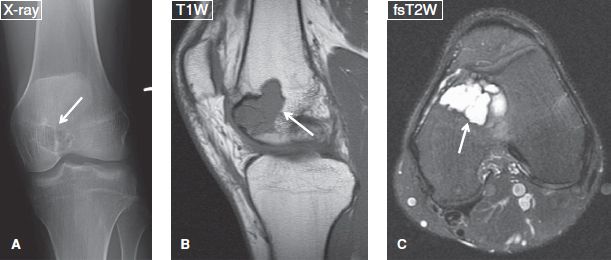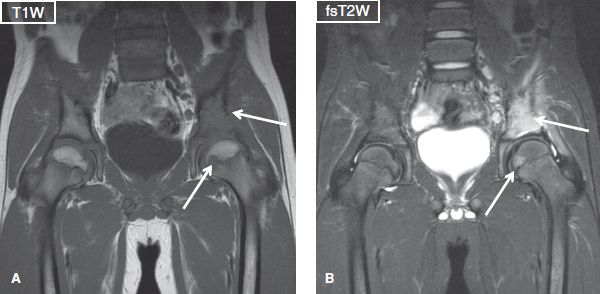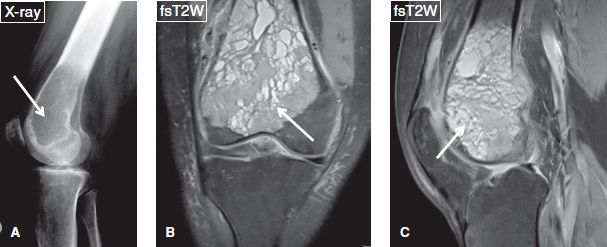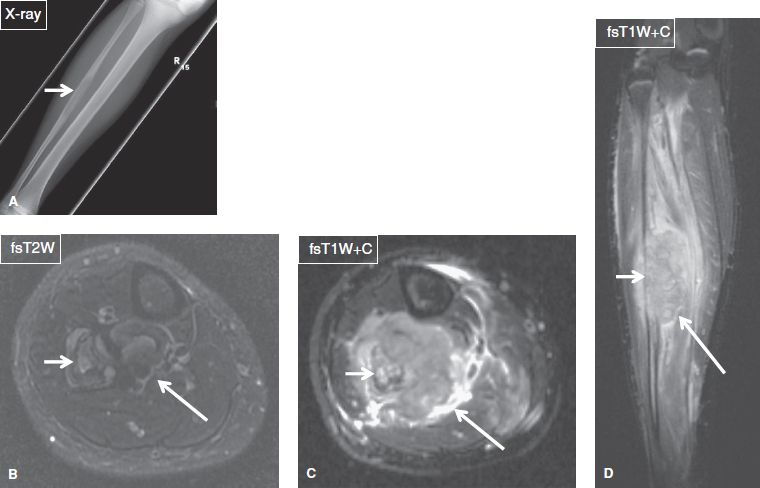 Lesions that classically and preferentially occur in the toes or fingers include Nora's lesion, glomus tumor, epidermoid cyst, enchondroma, brown tumor, metastasis from lung cancer (Figs. 25–30). In the spine, most lesions occur in predictable locations: GCT, plasmacytoma, benign notochordal tumor, chordoma and clear cell chondrosarcoma mostly involve the vertebral bodies; chordoma in the lower sacrum or the C2 vertebra; osteoid osteoma, osteoblastoma, and metastases in the pedicles; aneurysmal bone cyst (ABC) and chondrosarcoma in the posterior elements; and peripheral nerve sheath tumors and perineural cysts in and around the neural foramina (Figs. 31–41). Multiple posterior element involvement may be seen with chondrosarcoma, ABC, and tuberculosis (Fig. 42). A limited number of lesions can cross the joint capsule, include GCT, ABC, chondrosarcoma, and plasmacytoma. Finally, synovial sarcoma rarely arises in the joint, but it commonly occurs in para-articular locations.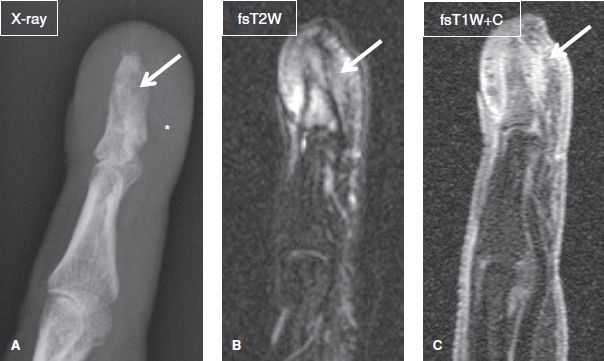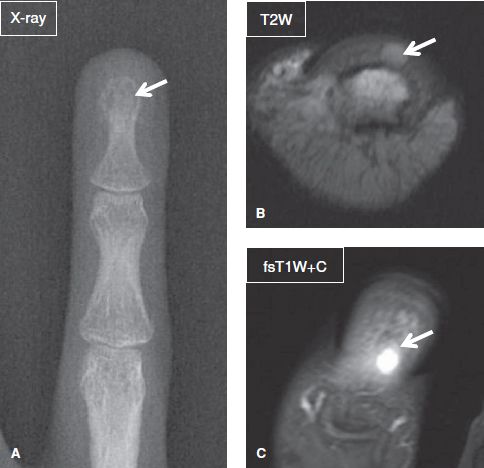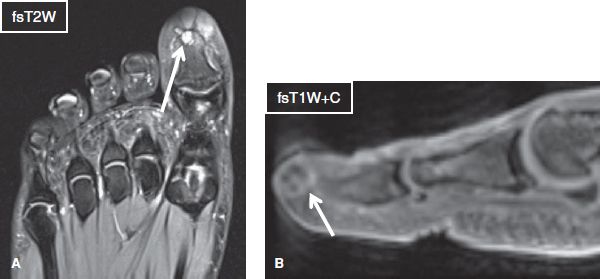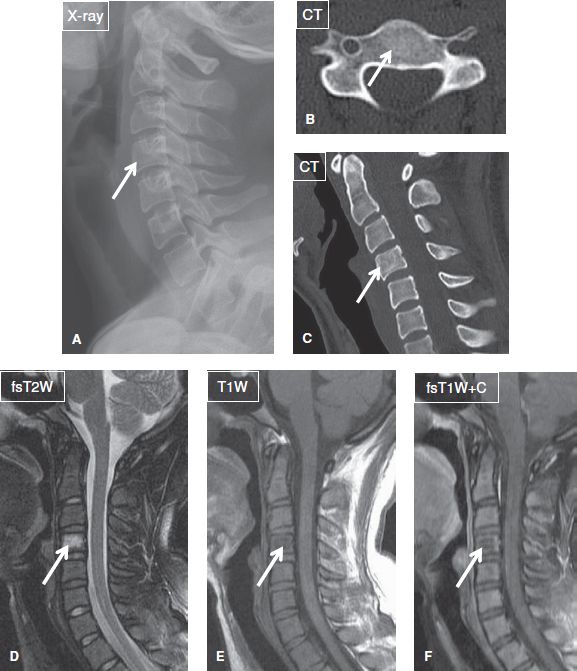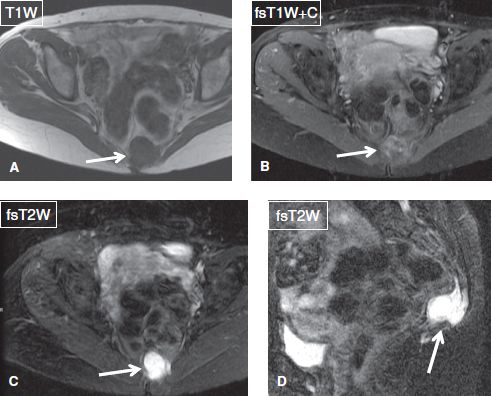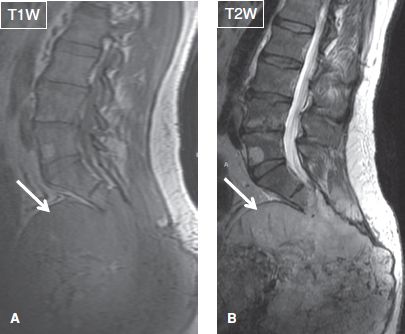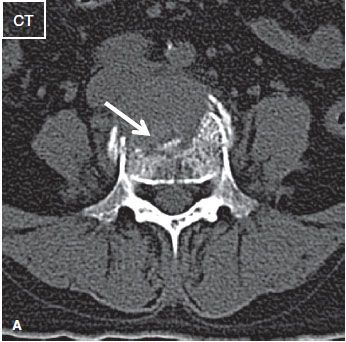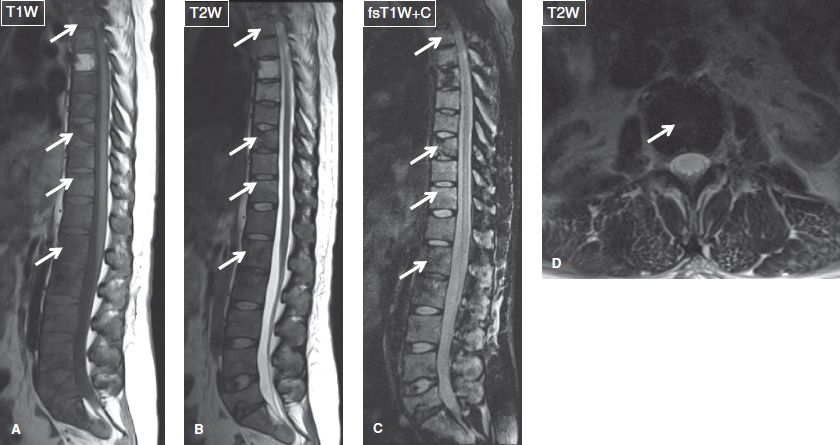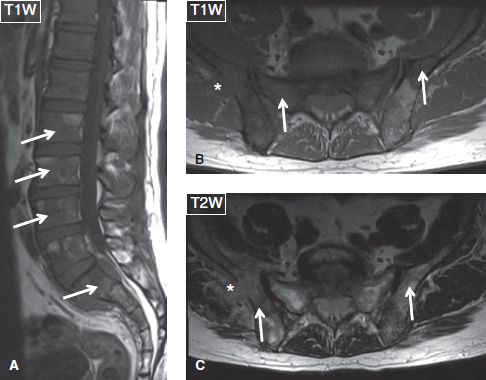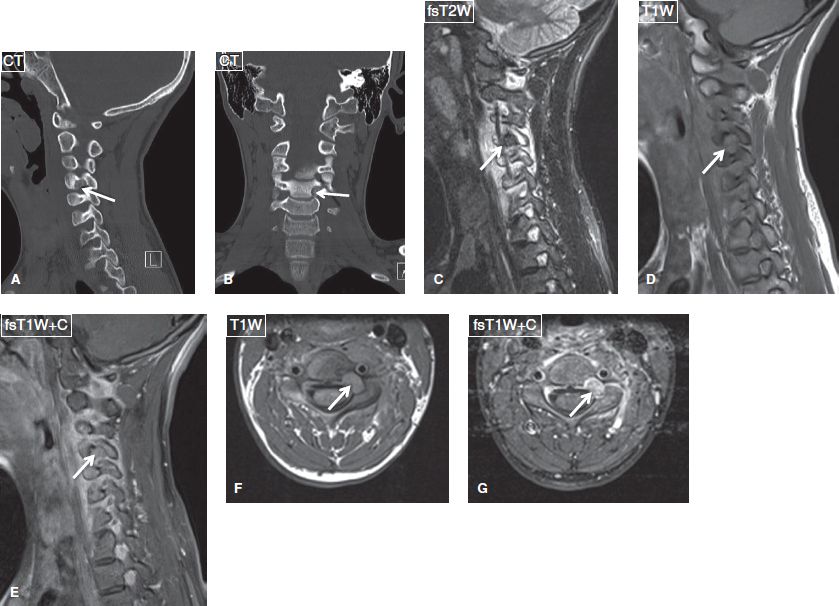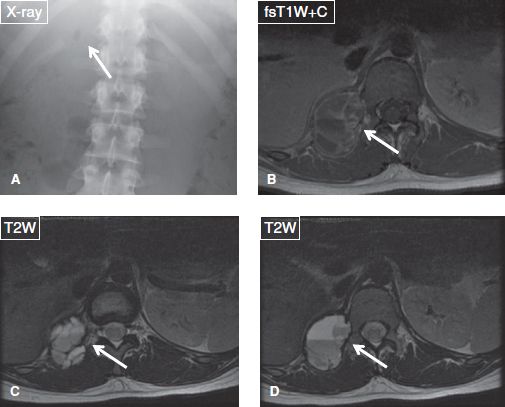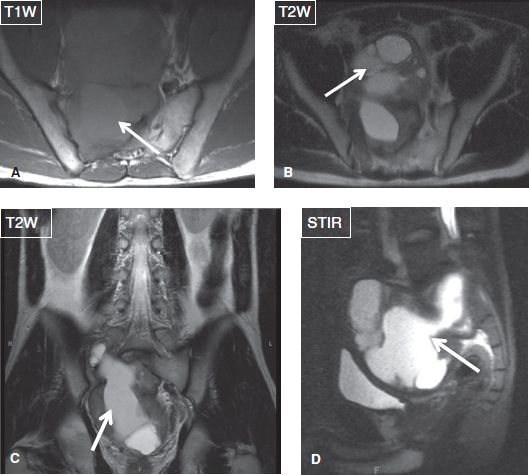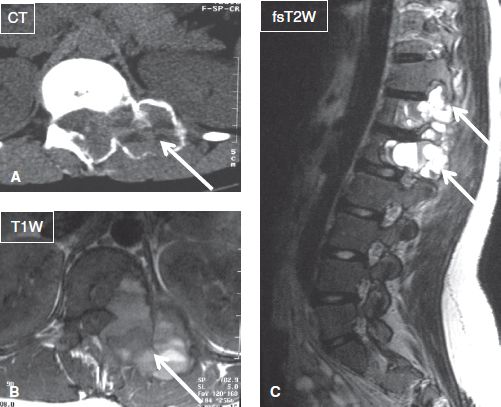 Among soft tissue tumors, location is also very important from diagnostic perspective apart from internal characteristics. Soft tissue lesions can be accurately diagnosed merely based on location. Intra-articular bodies or cysts are encountered in or near a joint and include ganglion, parameniscal, paralabral, pericruciate, geyser phenomenon, various bursal lesions around the knee, postoperative or injury-related seroma, and Morel-Lavallée (i.e., degloving lesion from injury) (Figs. 43–48). Lesions developing within skeletal muscles include intramuscular cyst, parasitic infestation, myxoma, lipoma, elastofibroma dorsi, venous malformation, endometriosis, and myositis ossificans/heterotopic ossification (Figs. 49–53). Lesions developing in tendons, fasciae, and ligaments include calcium hydroxyapatite disease, gout, GCT of tendon sheath, amyloidosis, xanthoma, fibroma in relation to plantar fascia, juvenile aponeurotic fibroma, nodular fasciitis, myositis ossificans, fibromatosis, desmoid tumor, and dermatofibrosarcoma protuberance in the skin and subcutis. Elastofibroma dorsi typically develops in the periscapular and gluteal areas (Fig. 50). The most common soft tissue lesions arising in the foot include intermetatarsal bursitis (along the dorsum of the toes), Morton neuroma and foreign body granuloma (along the plantar aspect of the toes), adventitial bursitis (at pressure points), and tophi or granulomatous nodules from rheumatoid arthritis and sarcoidosis (Figs. 54–61). Finally, lesions developing along the transverse axis of long bones may be characterized as follows.