Figs. 11.1
Snowboarding jump (Photo by Jack Antal)
11.4

Snowboarding Injuries
11.5

Skill-Specific Differences

The injury patterns in skiers and snowboarders tend to vary greatly depending on the skill of the participant. Beginners in both sports are responsible for the most injuries though this trend is more pronounced in snowboarding where beginners make up 30–60 % of snowboarding injuries but only 18–34 % of skiing injuries [

4

,

5

,

19

,

22

,

38

]. However, some studies suggest that the injuries sustained by experts in both sports may be more severe [

39

], which makes sense given the higher travel speeds and more advanced terrain utilized by experts. Expert skiers tend to have greater rates of head, trunk, and upper extremity injuries than beginners. Expert snowboarders tend to have lower rates of upper extremity injuries, especially wrist injuries and head injures [

19

,

39

]. When expert snowboarders experience head and neck injuries, they tend to be less severe, while upper extremity injuries tend to be more severe [

39

]. Expert snowboarders also suffer a disproportionate number of ACL injuries compared to beginners [

10

]. As noted above, the predominant mechanism for ACL injuries in snowboarders is jumping related, an activity far more likely to be attempted by experts.
11.6

Risk Factors

Skiing and snowboarding are both high-velocity sports and contain inherent risks. However, there are many factors, both internal and external, that can increase the level of risk (Fig.

11.2

).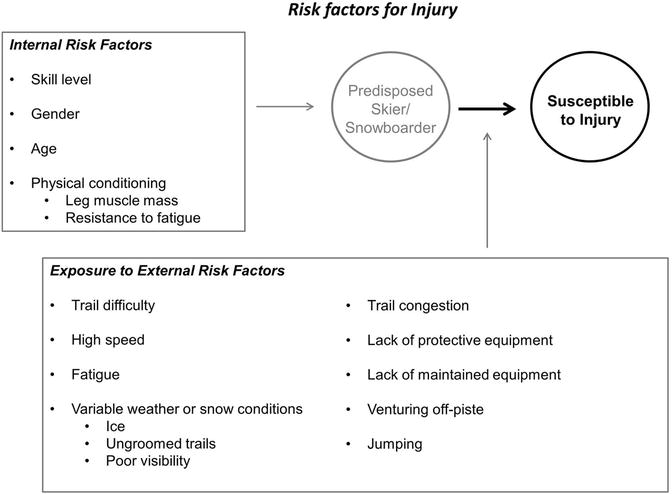 Fig. 11.2
Internal and external risk factors present in skiing and snowboarding
A common factor in injury is skiing or snowboarding past one's ability level. Attempting a trail above one's abilities is likely to increase the potential for a fall. Skiing on a run that is too challenging also could have the effect of causing the skier or snowboarder to increase their speed more rapidly than is comfortable and cause them to lose control. Hasler et al. identified "low readiness for speed" as a common cause of injury in snowboarders [
40
]. Such a situation could arise on a slope that is too steep or too icy for a beginner or intermediate rider or skier.
Skiing and snowboarding are physically demanding sports that require careful focus, awareness, and good form to perform safely, and thus, it is unsurprising that fatigue could increase the risk of injury. Studies show that the majority of ski injuries occur in the afternoon, when skiers and snowboarders are more fatigued [
14
]. This trend is even present in professional alpine skiers, as most injuries occur during the last fourth of the race [
13
]. Fatigue has also been shown to have a negative effect on balance [
13
,
41
,
42
]. Finally fatigue may cause reaction time to decrease, which could lessen the ability to absorb an impact from an irregularity in the trail or to navigate an obstacle.
High traveling speed has been reported by several sources to be a risk factor for injury [
13
,
43
,
44
]. While one source did not report any increase in injury rates in World Cup downhill skiing events with increased travel velocities, the authors suggested that speed could have major impacts on the injury risk in general, which would reduce the ability to anticipate rough terrain and turns, especially when traveling off-piste [
40
]. Between variable snow conditions, unmarked obstacles, and unpredictable other slope users, a skier and snowboarder must remain in control and able to adapt to their surroundings. However, traveling at a high speed, especially beyond their ability level, reduces the amount of time possible to adjust to these changing conditions. Speed also increases the force of any impact, whether during a fall or with another slope user.
As mentioned above, skiing and snowboarding take place outdoors and while resorts may have some control over snow conditions, for example, creating a more consistent surface by grooming a trail, conditions can change rapidly due to changing temperatures, precipitation, or ski traffic. Soft snow can rapidly turn into an irregular, bumpy surface which can be challenging to navigate especially for beginners. The risk of sustaining a concussion has also been reported to be 2.5 times greater on ungroomed or rough snow compared with soft snow [
17
]. Skier traffic can scrape off snow and expose ice. Icy conditions have been identified as risk factors in injury [
40
,
45
]. Ice can make it difficult to turn in order to control speed and direction and can also harden the snow, creating a less forgiving surface in the event of a fall. Poor weather and visibility have also been suggested to play a role in the risk of injury. This can be explained by the fact that poor visibility would limit the skier or snowboarder's ability to navigate around obstacles or prepare for snow irregularity [
40
,
45
].
Finally, the choice of equipment can alter the risk of injury. Using unfamiliar equipment, as is common with beginners using rentals, may prevent a skier or snowboarder from performing optimally. Older equipment may not have effective safety features and, if not maintained, may also perform worse on hard and icy conditions. Specific to skiing, bindings which are not properly adjusted for the skiers' weight and ability level could either not release early enough during a fall, which could create a torque on the knee with the potential to create injury, or release too soon during normal skiing, causing a fall on their own [
20
,
46
].