Prognosis
Hemangiomas → benign lesions
Hemangioendothelioma → good prognosis
Angiosarcoma → poor prognosis
51.1

Characteristics of the Single Entities
51.1.1

Hemangioma of Bone

Definition

: Benign solitary tumor composed of newly formed vessels.

Epidemiology

: Rare tumors, accounting for less than 1 % of all bone tumors, even though at least 10 % of patients from autopsy series showed vertebral hemangiomas as occasional finding. About 70 % of the cases are diagnosed in patients between 30 and 60 years. The most frequent locations are the craniofacial bones, followed by the vertebrae, the ribs, and the appendicular skeleton.

Clinical

: Frequently asymptomatic sometimes pain when pathologic fracture occurs.

Histology

: Hemangiomas can be classified in four groups: capillary, cavernous, venous, and mixed. In the bone they almost all belong to the fourth category. The cells can be quite plump and composed of many interesting vessels and can be diagnosed as cellular or epithelioid variants of hemangioma and must be distinguished from low-grade malignant (hemangioendothelioma) to high-grade (angiosarcoma) vascular tumors. One of the key factors is age. If the patient is younger than 25 years of age, the vascular tumor is almost always a hemangioma variant. Most patients with true angiosarcoma are over 50–60 years of age.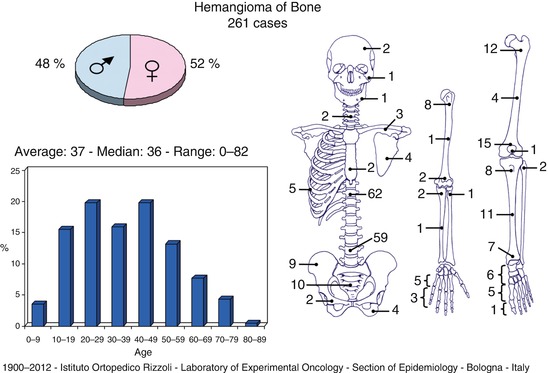 51.1.2

Hemangioendothelioma

Definition

: Borderline to low-grade malignant vascular tumors, capable of aggressive local growth, recurrence, or both, and some variants, such as epithelioid hemangioendothelioma, can also give distant metastases. Epithelioid hemangioendothelioma was defined as a peculiar entity in 1982 by S. Weiss and F. Enzinger.

Incidence

: Extremely rare, they frequently occur during the second to third decade of life.

Location

: Bones of the lower extremities are the most frequently involved location, followed by the spine. Separated synchronous foci are frequently present in different anatomic locations.

Imaging

: Lytic frequently multiple lesions with variable peripheral sclerosis.

Histology

: Solid nests or anastomosing chords of epithelioid cells that occasionally form narrow vascular channels. The supporting connective tissue may exhibit myxoid change.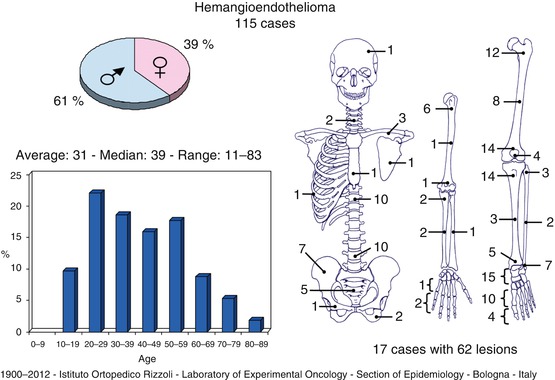 51.1.3

Angiosarcoma

Definition

: Malignant intermediate to high-grade vascular tumor, most frequently occurring in the soft tissues, rarely occurring in the bones. Primary angiosarcomas of bone are very rare and account for less than 1 % of all angiosarcomas.

Location

: Usually occurring in the long tubular bones, rarely can be multicentric, most frequently occurring in the lower extremities.

Imaging

: Destructive lytic mass with infiltrative borders.

Histology

: Atypical endotheliod cell with vasoformative features. Intermediate grade lesions can be easily recognizable, while high-grade lesions exhibit prominent clear atypia and brisk mitotic activity.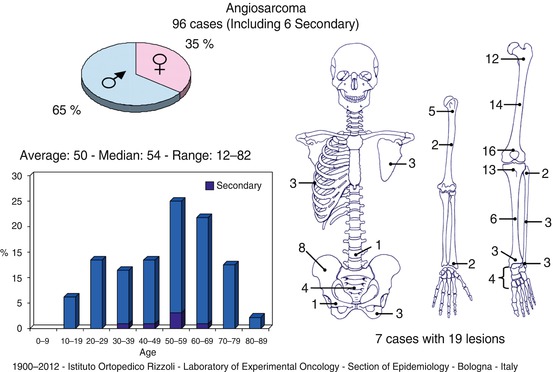 Prognosis
Hemangiomas → benign lesions
Hemangioendothelioma → good prognosis
Angiosarcoma → poor prognosis