Postnatal Herpes Simplex Virus
Herpes simplex virus (HSV) is a moderately large virus consisting of an icosahedral capsid enclosing a core of double-stranded DNA and protein, surrounded by a lipid-containing envelope (
Box 196.1
). Two subtypes are distinguishable—types 1 and 2—with approximately 50% DNA homology. Although type 1 is regarded as the oral type and type 2 as the genital type, changing sexual habits and possibly other factors blur this distinction. Thus, the virus type is not a reliable indicator of the anatomic site of isolation.
BOX 196.1. Herpes Simplex Virus (HSV) Genome
The large HSV genome (approximately 100 × 106 kd) encodes for more than 90 polypeptides. Replication occurs after viral penetration and uncoating by an orderly cascade of gene products have occurred. Several important virus-encoded enzymes (products of beta genes), such as thymidine kinase and DNA polymerase, are necessary for viral DNA replication to occur and have served as important targets for antiviral compounds. Several major viral surface structural glycoproteins are enumerated. Some of them (e.g., gG) are type-specific, and some (gB, gD, gH) are critical for viral-cell interaction. Most of these glycoproteins are immunogenic and may be used in type-specific serologic assays (e.g., gG) or for vaccine candidates (e.g., gB or gD). The virus is assembled in the nucleus and buds through the nuclear membrane, acquiring its envelope, and is released at the cell surface.
HSV assumes a state of persistent latency in neural tissue (ganglion) after primary infection of the host has occurred. A limited number of RNA transcripts occurs during latency and appear to be necessary for efficient recurrences. Human HSV can be replicated in tissue cultures derived from a variety of species. The ready growth of HSV in the laboratory and the lack of species specificity distinguish this virus from other human herpesviruses. The rapidly progressive and relatively characteristic focal cytopathology induced by HSV in susceptible tissue cultures, coupled with reliable antigen detection techniques, permits simple, inexpensive recovery of this virus and its relatively easy identification and typing as 1 or 2.
EPIDEMIOLOGY
Although highly infectious, HSV is not transmitted casually from person to person. The enveloped virions are relatively unstable at atmospheric conditions, and close interpersonal contact usually is required for transmission. HSV can be transmitted via such body fluids as saliva and certainly can be acquired by direct apposition of infected with uninfected integument or mucous membranes. For example, virus has been transferred directly between wrestlers (herpes gladiatorum) and rugby players (herpes rugbeiorum, or "scrum pox"). Nurses and respiratory therapists may acquire HSV infections of the paronychial region (herpetic whitlow), presumably from ungloved hand contact with oropharyngeal secretions. Health care workers effectively may transfer HSV to their patients and actually can cause outbreaks of gingivostomatitis. Children with gingivostomatitis may acquire HSV whitlow by biting their nails or sucking their thumbs. Newborns may acquire HSV infection during passage through a virus-infected birth canal. Genital and anal HSV infections are acquired and transmitted through direct contact with infected genitalia or in connection with oral-genital, anal-genital, or oral-anal contacts. In all such cases, transmission may occur when the infected parties are asymptomatic and unaware of their own HSV infections. The presence of active lesions is associated with high titers of virus, which probably increases the likelihood that transmission will occur. Although HSV has been isolated from the hands of patients having an oral lesion and been shown to persist for several hours on inanimate objects or in distilled water, few data implicate inanimate sources as important reservoirs of persistence and spread of virus.
If the uninfected exposed skin or mucous membranes are abraded, damaged, or otherwise altered, the risk of transmission and spread is enhanced. For example, burned or abraded skin is more susceptible to HSV infection than is intact skin. Infants may acquire HSV infections in the area of a diaper rash; infants and children with eczema are at risk for development
of serious disseminated HSV infections (Kaposi varicelliform eruption) (
Fig. 196.1
).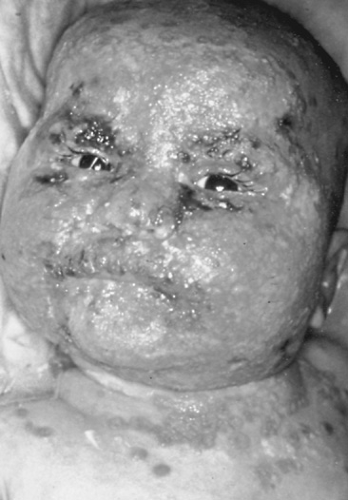 FIGURE 196.1.
Extensive herpes simplex virus infection in an infant with atopic eczema (Kaposi varicelliform eruption). (Reproduced with permission from Kohl S. Postnatal herpes simplex virus infection. In: Feigin RD, Cherry JD, eds.
Textbook of pediatric infectious diseases
, 4th ed. Philadelphia: Saunders, 1998:1709.)
The epidemiology of HSV is dominated by symptomatic and asymptomatic infection in a huge pool of latently infected individuals. Symptomatic recurrences and asymptomatic shedding ensure the continued spread of HSV. Approximately 1% of individuals shed HSV orally, and 0.2% to 0.5% of women shed HSV genitally at any time. HSV-2 seropositive men and women shed HSV in the genital tract approximately 1% to 5% of the time. The numbers are higher for individuals who are high-risk or immunocompromised. Seroepidemiologic studies reveal that HSV infections are found in all populations. No definite seasonal pattern in HSV infections exists.
Most neonatal HSV infections are acquired from maternal genital strains and, thus, usually are caused by HSV-2. After the neonatal period, HSV-1 infections predominate and, depending on social and economic factors, 40% to 60% of young children of lower socioeconomic status are seropositive by age 5 years. Most such individuals exhibit HSV-1 antibodies by the time they reach adulthood. In one study of adolescents, 62% were seropositive for HSV-1 and 12% for HSV-2.
Studies have documented the acquisition of HSV-1 in child-care nursery or school settings, with clusters of infection and, in some cases, outbreaks of symptomatic illness occurring in as many as 13 children per outbreak. Typically, illness occurs in children 1 to 2 years old, with herpetic gingivostomatitis being the major manifestation. Studies of higher socioeconomic populations reveal seroepidemiologic evidence for HSV-1 infection in only 30% of university students. Reflecting its association with sexual activity, the prevalence of HSV-2 increases at approximately the time of puberty and early adolescence. The percentage of HSV-2-seropositive adults ranges from 20% to 35%, with a 30% increase occurring in the last decade in the United States and a fourfold increase among adolescents.
The incidence of HSV genital infection has increased markedly since the late 1970s. Approximately 1 million new cases occur annually in the United States. In studies of sexually active university students, 4 to 16 per 1,000 acquire genital HSV infection annually. In family health clinics, the rate can be as high as 55 per 1,000.
Risk factors for the acquisition of HSV-2 in North America include gender (female greater than male), race (higher in blacks), lower socioeconomic status, multiple sex partners, failure to use condoms, and bacterial vaginosis. Transmission of HSV-2 from an infected individual to an HSV-2-seronegative individual occurs annually in approximately 10% of stable heterosexual couples. Higher rates occur in transmission from men to women (19%) and to HSV-1- and HSV-2-seronegative women (32%).
The reactivation of latent HSV infection is associated with a variety of influences, including exposure to sunlight (ultraviolet), certain febrile illnesses, local trauma, menstruation, and immunosuppression. These influences, therefore, define additional epidemiologic factors pertinent to HSV infections.
PATHOGENESIS
HSV tends to infect cells of ectodermal origin and, in most cases, initial viral replication occurs at the portal of entry, usually in skin or mucous membranes. The nuclei of infected cells manifest eosinophilic intranuclear inclusions. Because HSV has a predilection for cells that originate in embryonic ectoderm, these viruses may involve the central nervous system (CNS).
The incubation period for primary HSV infection varies from 2 to 20 days in most cases. After primary infection has occurred, the virus remains latent in sensory neural ganglia that innervate portions of the skin or mucous membranes originally involved. Thus, an individual with recurrent HSV almost always experiences reactivation of the HSV lesions in the identical region. In immunologically intact individuals, the recurrence generally is less severe than is the primary infection. In individuals previously infected with one type of virus (e.g., HSV-1, orally), infection with a second type (e.g., HSV-2, genitally) is not prevented but is less severe than in a host who has never been infected with either. Less commonly, an individual can acquire a reinfection with the same type (e.g., a second infection with a new strain of HSV-2 genitally in a patient with preexisting genital HSV-2 infection). Generally, the reinfection is mild and often is dismissed as an endogenous recurrence. These strains can be differentiated by DNA endonuclease restriction analysis of viral isolates. The pathophysiology of recurrent HSV is described in
Box 196.2
.
CLINICAL MANIFESTATIONS AND COMPLICATIONS
Most infections do not cause significant or specific symptoms. Although they harbor latent HSV, most seropositive persons are unaware of having ever encountered these viruses. The spectrum of symptomatic HSV infections ranges from minor localized recurrences, usually at mucocutaneous junctions, to severe and even fatal illnesses.