Nerve Lesions: Suprascapular, Axillary, Thoracic Outlet, and
S. H. Kozin:
Associate Professor, Department of Orthopaedic Surgery, Temple University and Hand Surgeon, Shriners Hospitals for Children, Philadelphia, Pennsylvania.
TABLE 33-1 SEDDON'S CLASSIFICATION OF NERVE INJURY
| Type | Definition | Outcome |
| --- | --- | --- |
| Neuropraxia | Interruption of nerve conduction; some segmental demyelination; axon continuity intact | Reversible |
| Axonotmesis | Axon continuity disrupted; neural tube intact | Wallerian degeneration; incomplete recovery |
| Neurotmesis | Complete disruption of nerve continuity; loss of axons and neural tubes | No spontaneous recovery; surgery required |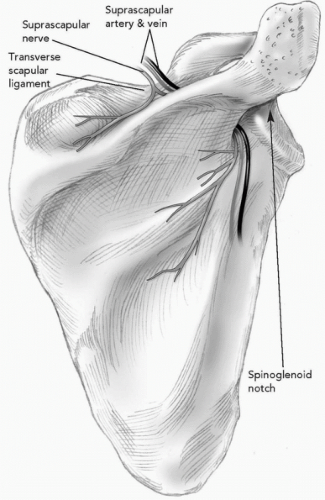 Figure 33-1
Suprascapular nerve passes below the transverse scapular ligament and around lateral margin of the scapular spine (spinoglenoid notch).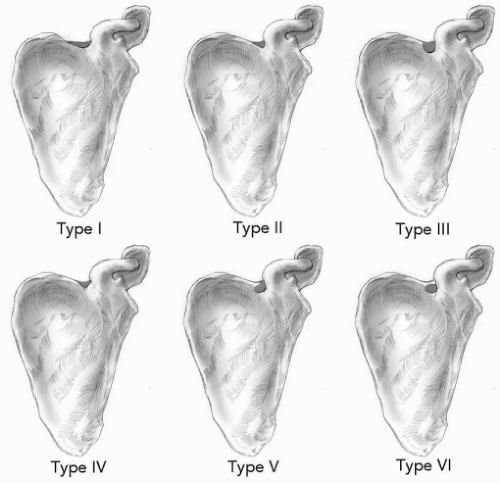 Figure 33-2
Classification of suprascapular notch morphology. In type I, the entire superior border of the scapula shows a depression (8% of specimens). In type II, there is a wide, blunted, V-shaped notch (31%). In type III, the notch is symmetrical and U-shaped (48%). In type IV, there is a very small V-shaped notch (3%). Type V is similar to type III but with partial ossification of the medial portion of the transverse scapular ligament (6%). In tye VI, the transverse scapular ligament is completely ossified, resulting in a foramen of variable size (4%). (Adapted from Rengachary SS, Burr D, Lucas S, et al. Suprascapular entrapment neuropathy: a clinical, anatomical, and comprehensive study. Part 2: anatomical study. Neurosurgery 1979;5:447.)
TABLE 33-2 CAUSE OF SUPRASCAPULAR NEUROPATHY
| | |
| --- | --- |
| Repetitive microtrauma | Overhead activities (e.g., volleyball, tennis, weight lifting) |
| Direct trauma | Glenohumeral dislocation, scapular fracture, proximal humerus fracture, iatrogenic injury (e.g., posterior shoulder surgery, distal clavicle resection, transglenoid arthroscopic shoulder stabilization, and rotator cuff surgery) |
| External compression | Patient positioning during spine surgery |
| | Glenohumeral ganglion or cyst |
| Infection | Brachial neuritis (Parsonage-Turner syndrome) |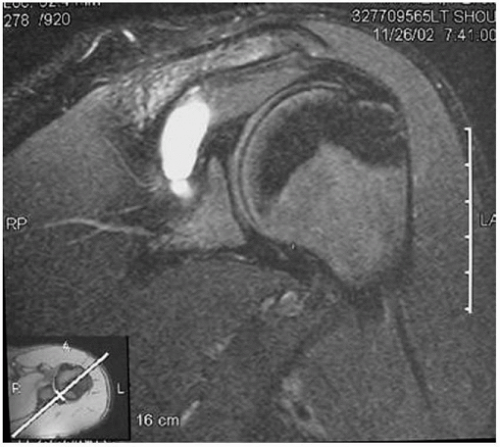 Figure 33-3
Magnetic resonance imaging (MRI) of glenohumeral cyst emanating from the posterior-superior capsularlabrum junction and compressing the suprascapular nerve before innervation of the infraspinatus muscle.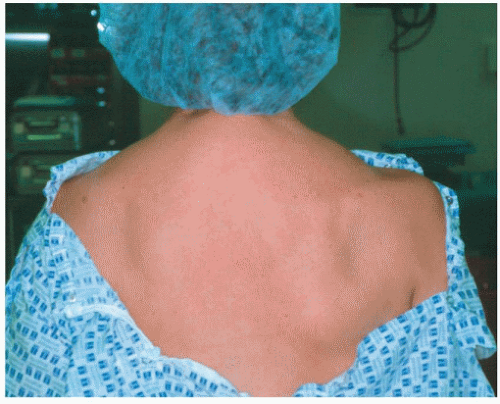 Figure 33-4
A 30-year-old woman with right suprascapular notch neuropathy and diffuse atrophy of both the supraspinatus and infraspinatus muscles.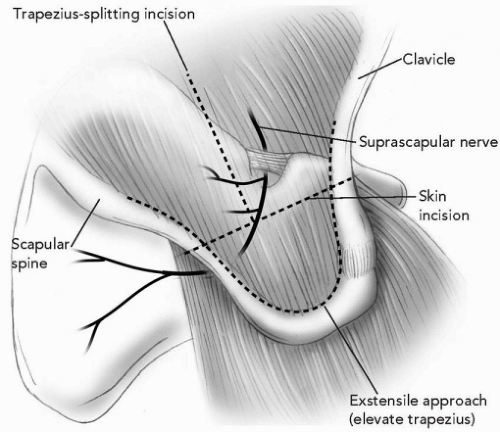 Figure 33-5
Superior trapezius-splitting approach for decompression of suprascapular notch neuropathy.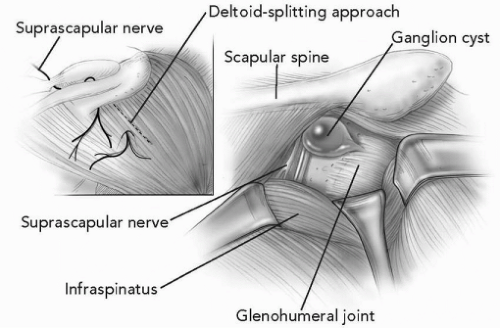 Figure 33-6
Posterior approach to the shoulder for isolation of the suprascapular nerve and excision of glenohumeral cyst.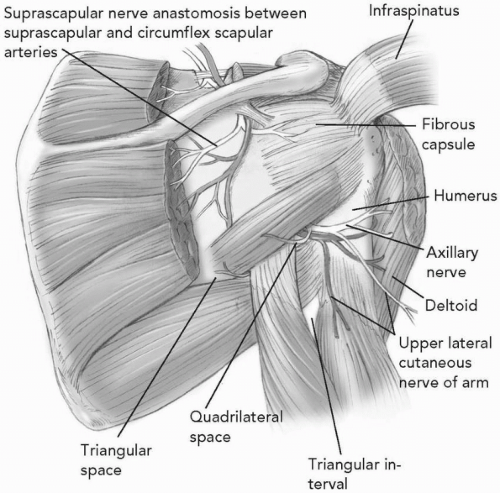 Figure 33-7
Posterior view of quadrilateral space with axillary nerve and posterior humeral circumflex artery.
TABLE 33-3 CAUSE OF AXILLARY NEUROPATHY







Repetitive Microtrauma






Quadrilateral Space
Syndrome







Direct trauma






Glenohumeral fracture and/or dislocation




Iatrogenic injury (e.g., shoulder instability surgery, rotator cuff surgery, arthroscopy, and capsular shrinkage)




Penetrating trauma




Gunshot injury







Infection






Brachial neuritis (Parsonage-Turner syndrome)







External compression






Tumor or aneurysm
Full access? Get Clinical Tree