Basal Ganglia and Neurotransmitter Disorders
Biochemical or structural pathology in the basal ganglia may be manifested by movement disorders, groups of neurologic diseases, or syndromes that are characterized either by slowness, paucity, and "freezing" of voluntary movement (bradykinesia, akinesia) or by excess abnormal involuntary movement (hyperkinesia, dyskinesia). The basal ganglia seem to be important in the initiation, scaling, and controlling of the amplitude and direction of movement. This complex of deep nuclei is divided anatomically into the corpus striatum, the globus pallidus, and the substantia nigra (
Fig. 414.1
). The corpus striatum, which includes the caudate nucleus and the putamen, receives input from the cerebral cortex and the thalamus and, in turn, projects to the globus pallidus. The substantia nigra is divided into the dopamine-rich pars compacta, which
is darkly pigmented because of a high content of neuromelanin, and the less dense pars reticularis. The pars reticularis is similar histologically and chemically to the medial segment of the globus pallidus, and both project by way of the thalamus to the premotor and motor cortex. The pars compacta gives rise to the nigral-striatal pathway, which is the main dopaminergic tract. The output of the basal ganglia, which once was thought to be in parallel with the pyramidal system (hence the term
extrapyramidal
), projects by way of the thalamus to the cerebral cortex and then to the pyramidal system. Integration of the basal ganglia with the cortex facilitates motor control.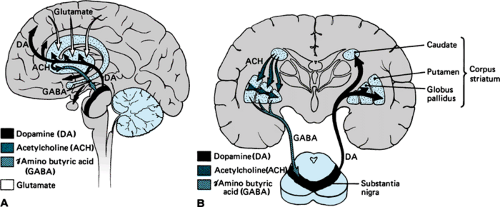 FIGURE 414.1.
Brain diagram showing some important neurotransmitter pathways involved in disorders of the basal ganglia.
A:
Sagittal section.
B:
Coronal section.
The diagnosis of a particular movement disorder depends primarily on careful observation of the clinical phenomena. Often, the bradykinetic movement disorders are accompanied by rigidity, postural instability, and loss of automatic associated movements. The hyperkinetic involuntary movements are differentiated phenomenologically according to their characteristic clinical features: rapidity and duration of contractions, rhythmicity, pattern, and suppressibility (
Table 414.1
). In general, abnormal involuntary movements are exaggerated with stress and disappear during sleep; however, certain forms of myoclonus and tics may persist during all stages of sleep. In a clinic devoted to movement disorders, tics are the hyperkinetic movements observed most commonly in children, followed in lessening frequency by dystonia, stereotypies, choreoathetosis, tremors, and myoclonus.
HYPERKINETIC MOVEMENT DISORDERS
Tremor
Essential tremor (ET) is the most common cause of an oscillatory involuntary movement during childhood (
Box 414.2
). ET may start at any age, including infancy. One form of infantile ET is the hereditary chin tremor, which consists of rhythmic,
three-per-second contractions of the chin that often are associated with deafness and are inherited in an autosomal dominant pattern. Another form of ET that begins during infancy or early childhood is so-called shuddering attacks. Affected children may have more than 100 attacks a day, but symptom-free intervals may last as long as 2 weeks. The attacks are characterized by bursts of rapid trembling of the entire body, occasionally associated with head turning, involuntary sniffing, and throat clearing. During the attacks, affected children usually sink to the floor; the attacks may persist during sleep.
In addition to these forms of ET, the characteristic action-postural tremor also may be seen in children. Often, the slower tremor (approximately 6.5 Hz) involves the head and neck, whereas the more rapid tremor (8 to 12 Hz) tends to involve the hands. Many other variants of ET have been recognized, however. Although ET usually is "benign," it occasionally can progress to a very disabling movement disorder, interfering with writing, feeding, speaking, and other activities of daily living.
Usually, ET is inherited in an autosomal dominant manner, and a locus has been found on chromosome 2p22–p25. Although abnormalities of neurotransmitters in the basal ganglia are suspected to underlie ET, no pathologic changes have been documented in the few brains that have been examined at autopsy. Besides the beta blockers, primidone, gabapentin, topiramate, lorazepam, alprazolam, clonazepam, amantadine, clonidine, and ethanol may improve ET.
Other oscillatory involuntary movements occasionally seen in infants and children are "head nodding," which often is associated with congenital nystagmus, including spasmus nutans, and the "bobble-headed doll's syndrome," which is seen with diencephalic lesions, including third-ventricle cysts or tumors, craniopharyngioma, hydrocephalus, and hypothalamic lesions.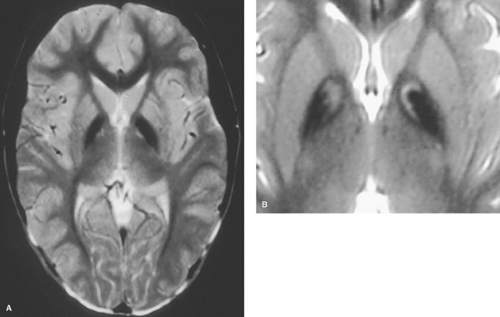 FIGURE 414.2.
MRI of a patient with NBIA showing hypointensity with relative hyperintensity in the anteromedial globus pallidus on T
2
-weighted MRI, the so-called "eye-of-the-tiger" sign.
Premium Wordpress Themes by UFO Themes
WordPress theme by UFO themes