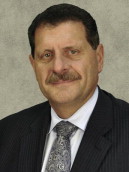 After years of publication,
Orthopedic Clinics of North America
has a new format with the inclusion of multiple contemporary topics in each issue. As the Section Editor for Adult Reconstruction, it is my plan, along with the other members of the editorial board, to keep each issue current with topics that are relevant to the orthopedic community.
One current challenge is the rising number of baby boomers who present with a painful knee. The prevalence of knee osteoarthritis has been increasing, placing a challenge on the orthopedic community on how to manage these patients. While total knee arthroplasty remains the primary surgical treatment for those patients who fail nonoperative modalities, partial knee arthroplasty provides an option for those patients who have limited arthritic changes. The attraction of unicompartmental knee arthroplasty and patellofemoral arthroplasty is that these are joint-preserving procedures, which have been shown to provide a viable functional outcome in a well-selected group of patients. The following articles on unicompartmental, bicompartmental, and patellofemoral arthroplasty report on the current outcomes with these implants. While there have been improvements in surgical technique and implant design, it is evident that these procedures, such as tissue-sparing surgery, still require careful placement of the components to maintain the function and durability of the knee.